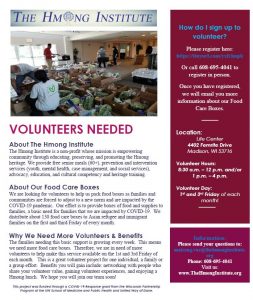 The Hmong Institute is looking for volunteers to help them pack Food Care Boxes, boxes of food and supplies for Asian refugee and immigrant families that are impacted by COVID-19.
Help them make this service available on the 1st and 3rd Friday of each month.
This project was funded through a COVID-19 Response grant from the Wisconsin Partnership Program at the UW School of Medicine and Public Health and United Way of Dane.