If you're feeling the lack of bright sunlight, long days and the job of watching plants grow, you're not alone.  One way to combat this situation is to grow an indoor herb garden.  Herb gardens provide various scents, fresh herbs for your winter recipes and can even be transplanted in the spring to continue the fun.  Today we'll explore 3 articles that talk about herbs, which ones are best to grow, and how to grow them.
The first article from mega-grower Bonnie Plants called "How to Grow Herbs Indoors" identifies 3 main points:  site, drainage and indoor temperatures.  Put herbs in the sunniest window and if that's in the kitchen, so much the better.  Give these plants drainage by using saucers or drain pans made of plastic or glass; not clay as it will soak through.  Finally, herbs like temperatures much like we do and being cooler at night is ok if you follow their guidelines.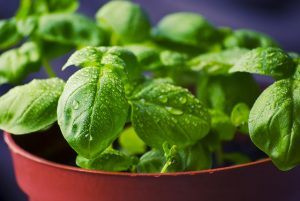 The Wisconsin Master Gardener website has a listing of many herbs so if you want more in-depth information about what you're growing look here.  Did you know at one time superstition held that only pregnant women or witches could grow parsley?  It's also a great source of vitamin C, vitamin A and iron.  Basil may be harder to grow indoors as it likes warm, even temps but it can be done.  Cinnamon or lemon basil…how fabulous.
Penn State Extension suggests herbs be grown as houseplants.  Their article on 'Growing Herbs Indoors' also gives us 3 herbs that grow well inside:
chives (Allium spp.)
horehound (Marrubium vulgare)
winter savory (Satureja montana)
I'm a houseplant, herb, vegetable and flowering plant grower.  What grows best for me indoors?  Dill.  In fact, it grew better indoors last year than it did outdoors.  I can't explain it.  I just keep growing.
Jeanne Ward, Local Food Advocate, Resource Specialist, and Administrative Program Assistant for UW-Extension, Douglas County.  I am currently studying Social Media Management at Northwestern University through Coursera.