As a local food provider you know that there are many options to bring your products to market and sell them and finding the best way to do that can be a trial and error journey.  As a local food advocate and in my position working with University of Wisconsin-Extension, Douglas County I found two articles that explore the topic of Food Hubs and their feasibility for local food distribution that I'd like to share with you.
The first article called 'Food Hubs:  An Antidote to 21st Century Food Problems?" by Justina Reichel of the Epoch Times, talks about Food Hubs being the 'Craigslist of Food.'  These hubs come in many forms but a lot of times they are a business that 'gathers, distributes, or markets locally grown produce and other farm fare.'  Food hubs can be non-profits that match producers with customers, websites that let farmers sell directly to their customers, or a food box program that picks up food from various farms and delivers it to consumers.  Whatever their form they address the needs of the community.
In the second article, the USDA's (United States Department of Agriculture) Blog tells the story of 'The Common Market', a group of providers that started with one truck and an idea to bring fresh, healthy food to communities in the Philadelphia area.  The article, by Anne L. Alonzo, Agriculture Marketing Service Administrator, called "Small Start-Ups Bring Big change for Philly Communities' talks about connecting local farmers with schools and hospitals in larger regions to sell their product.  What went from a dozen farmers and 22 customers is now a $3 million dollar business that works with 80 family farms and 250 customers.  Grants available from the USDA helped The Common Market buy equipment to continue to grow the business.
photo courtesy of Common Market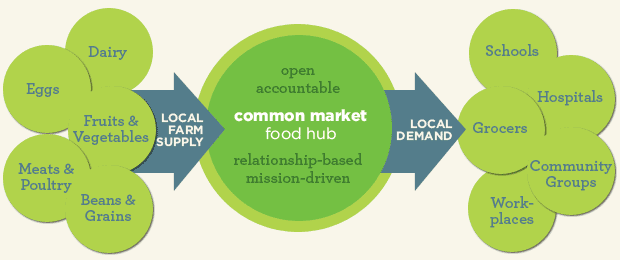 Because of my experience in growing my own produce, talking to local food providers and my work with UW-Extension I would like to share 3 action items that will help you determine whether a food hub is right for your community.
Connect With Your Community: Talk to other growers and producers or join a local food community; don't do it alone.
Explore Funding Resources: Check out the USDA's site for funding opportunities and call your local Extension office for more information.
Starting today take a step to research, connect or explore a Food Hub as the right fit for your community.
Jeanne Ward, Local Food Advocate and Administrative Program Assistant for UW-Extension, Douglas County.  I am currently studying Social Media Management at Northwestern University through Coursera.  Feel free to connect with me on Twitter @Jeannenetworked.