When we think of local food we ask, 'What's local?"  Is it within the county, 100 miles away, or within the state and beyond?  There is no one definition of how close it has to be to be considered local food.  
But as we explore this important question we must consider other factors that go into what local food means to you and your community.  How is it raised?  Is the grower sustainable?  How long does it take to get to you?  These are also considerations of local food.  These definitions that you choose as an individual and community are what's most important in making decisions to support local food.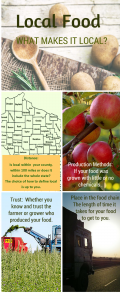 Even within a state local can mean different things.  Wisconsin Consumers & Local Food, an article based on a study done by a research team from the University of Wisconsin – Extension, 86% of people surveyed agree that food grown in Wisconsin is local.   A local survey was conducted by University of Wisconsin – Extension, Douglas County and reported that 86% of those surveyed considered local to be less than 100 miles.  Northwest WI is unique in its proximity to Minnesota and both surveys noted that Northeast Minnesota was also considered local.
Trying to put local into a national perspective the USDA states "With regards to the Value-Added Agricultural Market Development program, run by USDA Rural Development, the 2008 Farm Act defines the total distance that a product can be transported and still be eligible for marketing as a "locally or regionally produced agricultural food product" as less than 400 miles from its origin, or the State in which it is produced." (Local Food Systems Concepts, Impact and Issues, USDA)
Beyond geography there are other factors that define 'local'.  The USDA's article states that production methods may be a consideration of local food.  If the food was grown sustainably with the use of little or no chemical agents it may be considered local.  In addition if a farmer is someone you know and trust that may be your factor for recognizing local.    
Also, in the food chain process the length of the food chain plays a part in encouraging the mindset of local food.  If the food has a short timeline from harvest to retailer, is marked with information allowing the consumer to recognize the supplier this may be enough to be considered local food.  Even if the food is grown locally it may have to be sent to a distribution center that is hundreds of miles away and may take additional time to return to the local area.
Finally, the type of food is another consideration in defining local. While local food for beef may be local within 100 miles, local for produce could be a much closer radius.
I encourage you to consider your definition of local food as an individual and community and decide what is important to you.  Let the infographic to the left of this article be your guide.  Whether it's geographic area, distance, sustainability or knowledge of the supplier make your definition of local food work for you.
Jeanne Ward is a writer for Douglas County Local Food and a local food advocate as well as a staff member at University of Wisconsin Extension, Douglas County.  Feel free to connect with her @JeanneNetworked on Twitter or jeanne.ward@ces.uwex.edu.