With thought and planning eating healthy can be more affordable than you might think.  These two articles give tips and advice and practical tools to make your shopping trips easier, healthier and more organized.
---
In an article by Gayle Coleman, UW-Extension, she states that whole grains, vegetables, fruits, fish, low-fat milk are the basic foods for good health, yet a lot of families don't eat them, afraid that they will cost too much.  With a few simple guides, Coleman explains that eating healthy can be cost effective.
"Recent information from the U.S. Department of Agriculture, Economic Research Service indicates that when we compare the average portion sizes of healthy foods to foods high in solid fat, added sugars or salt, healthy foods are often less expensive. For example, a medium apple costs less than a standard-size candy bar."
Healthy Eating can be Affordable – read the article at https://fyi.extension.wisc.edu/news/2016/03/28/healthy-eating-can-be-affordable/ .
---
Spend Less – Eat Better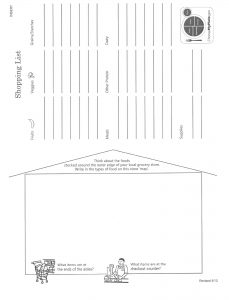 A shopper's guide, using quick fix meals from foods cooked the day before, nutrition facts, and a free shopping list and grocery store guide are all included in the Spend Less – Eat Better shopping packet.  Shopping at the farmers market, eating before you shop and planning meals around specials are all options in the shopper's guide.  A breakfast, lunch, and dinner calendar will help you plan your weekly meals.  In addition, the pre-printed shopping list from MyPlate.gov will make it easy to choose the right food groups for your family.
Check it out at:  http://www.ctahr.hawaii.edu/NEW/resources/SpendLess_EatingBetter.pdf
From:  University of Hawai'i at Manoa, College of Tropical Agriculture & Human Resources, Department of Human Nutrition, Food and Animal Science &Department of Family & Consumer Sciences, Cooperative Extension Service, Nutrition Education For Wellness www.ctahr.hawaii.edu/NEW