| | |
| --- | --- |
| An Innovative Response to COVID-19 | |
| By Elizabeth Brodek* | |
If we have gained anything from the pandemic, one of the most important and hopefully long-lasting is the successful collaboration of public and private sectors. Place makers, community organizers, and city officials have all had to become more creative and think further outside the box than we are usually called to. We saw an outpouring of concern for small, local businesses – the businesses that give our communities character and have been the backdrops to some of our most cherished memories. In a recent survey by the University of Wisconsin – Oshkosh, 42-percent of downtown businesses did not believe they could remain open for more than six months. From federal, state, and city governments to national organizations like AARP that made new grants available, it seemed like everyone wanted to do their part to help. With the assistance that has been pouring in, however, small retailers and restaurants were and remain less likely to receive assistance, such as EIDL or PPP loans.
Restaurants Limited by Seating Capacity
Restaurants were and are clearly most in need of this innovative thinking and assistance. The lowest-margin and most volatile businesses in most commercial corridors, restaurants have also become our most beloved places to meet a friend or celebrate an accomplishment. When the mechanisms by which COVID-19 spread became clear, outdoor dining became a necessity. However, when restaurants, which depend on capacity for revenue, had even outdoor capacities limited for social distancing, it was time to get creative. The same UWO survey has seen businesses cite "access to customers" as their greatest need over the past six months.
Use of Outdoor Public Space for Restaurant Carryout
Most bars and restaurants have long been able to have some outdoor presence with small sidewalk cafes and parklets. But social distancing requirements now limited or eliminated indoor seating. This created a problem of customer turnover. To keep volume, and therefore revenue, up, restaurants needed to figure out how to ensure efficient turnover and offer more items for carryout. Restaurants have been far more proactive than other retailers in embracing online services including carryout and delivery though most restaurants reported this spring that the shift also came with losses of 70-75 percent of monthly revenue. While many created larger parklets or took over entire streets, several did not have that option. Many community organizers turned their eyes toward public space: what public areas and parks do we have in our districts that can function as a place to bring your carryout? How can we encourage people to pick up carryout, and quickly turnover tables so our restaurants can keep new sources of revenue – new customers – coming in?
Small Dollar Investment Leading to a Big Impact
Milwaukee has several examples of innovation when it comes to adding or converting outdoor space. One that involves a Wisconsin Downtown Action Council partner, AARP, is in the city's East Side. The East Side Business Improvement District (BID) applied for and won an AARP Small Dollar Big Impact grant of $1,000 in early July 2020. The BID used that money to buy 10 picnic tables and commissioned local artists, who had been largely out of work because of the lack of festivals and markets, to paint them. The BID approached local businesses that had been doing well in the pandemic to sponsor and house tables after the project completes in mid-November. It also launched a GoFundMe campaign to fill the financial gap in project costs.
The BID worked with the City to take over management of an underutilized parking lot in the heart of its district to create a pop-up pocket park that would house the picnic tables, now dubbed the East Side Art Lot. The entire project came together in a month and a half, from first funding to opening day.
Engaging Local Artists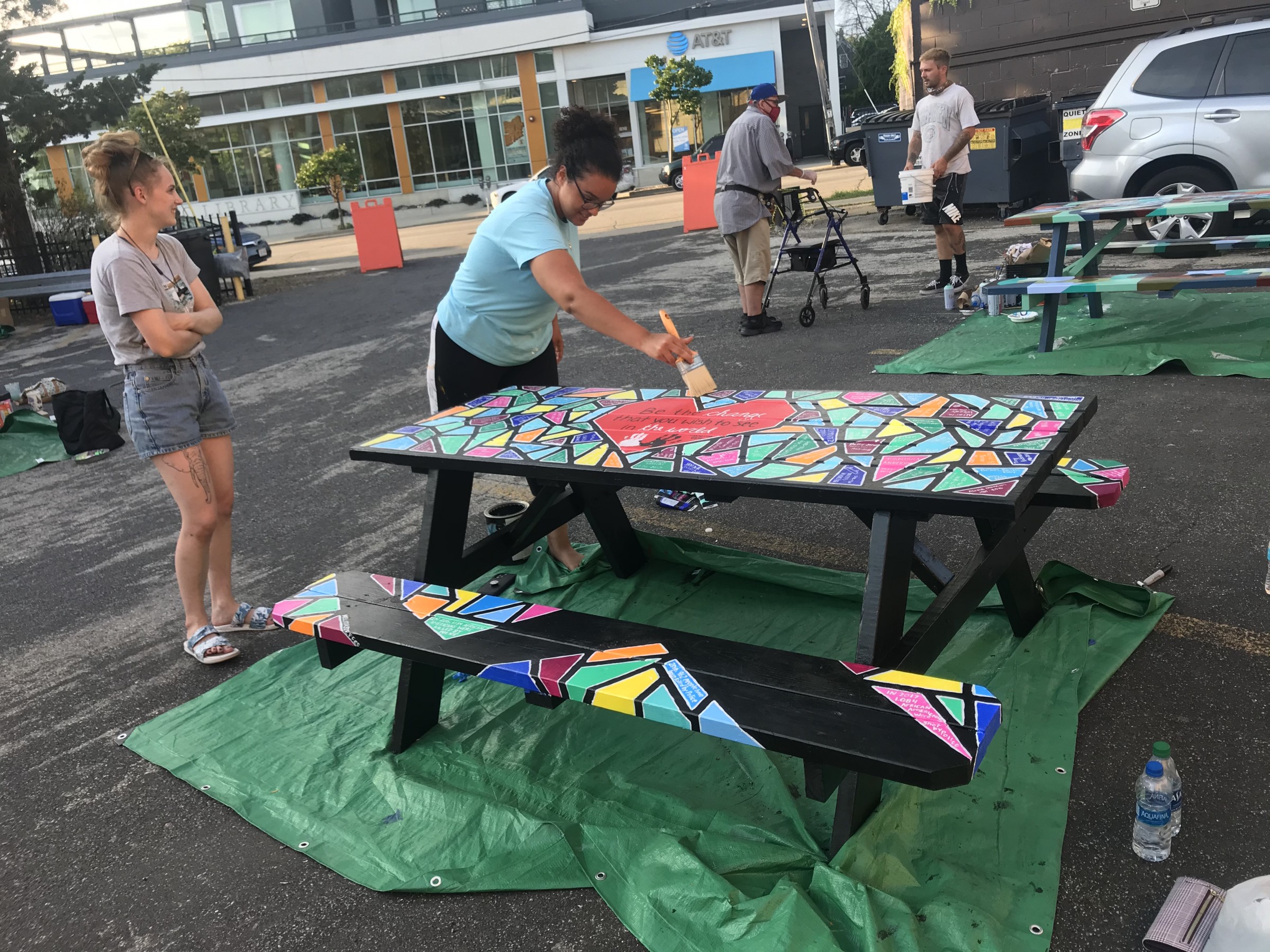 The BID put out a call for artists to paint the picnic tables and received 25 applications for the 10 tables. A jury of East Side business owners and residents chose the selected artists, most of whom were women and women of color, and some for whom this was their first public art project. The BID paid each artist or artist team a stipend of $500 and provided all supplies. The artists painted the tables in the lot over the course of a week, and foot traffic to the area increased significantly. It was like a gallery in motion. People loved seeing artists at work, the ability to ask questions, and share their ideas for the area. One of the most enlightening pieces of feedback was that no one missed the parking or wanted to see it go back to a parking lot. Instead, they were suggesting trees, pavement replacements, and programming activities. In the days following the opening of the East Side Art Lot, artists brought friends and family to visit the lot and support nearby businesses.
As the East Side Art Lot was coming to fruition, a local business that sells local makers' work approached the BID and asked to run an Art Market in the Lot. The East Side Art Market was put together and filled in two weeks. The Art Market ran every Saturday and Sunday from noon to 4:00 P.M. throughout September. It drew dozens more people to the area who were there to support local artists – both makers and the musicians that played there. The art community has a tight following, so showcasing their talents was not only helpful to them in a slow year, but also helpful to local businesses near the Market.
 Looking Ahead
It remains unclear what the remainder of the year and the foreseeable future holds for downtown businesses. The winter will test our ability to remain creative in providing engaging and safe spaces. The recent growth in COVID-19 cases statewide also demonstrates how fragile the current recovery is as customers may increasingly stay away. It is up to community leaders and advocates to continue to find new and innovative ways to help as we continue to look towards a return to "normal."
* Elizabeth Brodek is the Executive Director of the Milwaukee East Side Business Improvement District.
The East Side Business Improvement District is a partner in the City's efforts to develop and support strong businesses and the community on the East Side of Milwaukee. director@theeastside.org
More information and photos can be seen here:  https://www.theeastside.org/happenings/east-side-art-lot.html
Additional assistance provided by Jeffrey Sachse, Rawley Point Economic Advising, and Wiliam Ryan, University of Wisconsin-Madison/Division of Extension.
Contact: William Ryan, Community Economic Development Program, University of Wisconsin-Madison, Division of Extension 702 Langdon Street, Madison, WI 53706.  PH: (608)263-4994; FAX: (608)263-4999; Dial 711 for Wisconsin Relay.