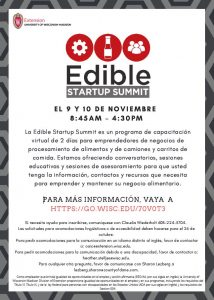 APUNTE LA FECHA: EDIBLE START UP SUMMIT del 9 al 10 DE NOVIEMBRE DE 2020
Inscríbete Aquí: Edible Startup Summit 2020 
Descargue el volante de este evento aquí: ESS 2020 Flyer SPANISH, PDF 872 KB
"Si apenas está comenzando con su negocio, o si quiere llevarlo al siguiente nivel, la Edible Startup Summit puede ser una excelente fuente de información," dijo Sharon Lezberg, educadora de desarrollo comunitario de Extension del condado de Dane.
Si necesita ayuda para inscribirse llame a Claudia Wiederholt 608-224-3704
Después de muchos años de éxito apoyando a varias empresas del condado de Dane, 2020 será el primer año en que esta cumbre se ofrezca a nivel estatal. La Edible Startup Summit ofrece a los participantes una valiosa oportunidad para establecer contactos y hacer crecer sus negocios.
Emprendedores de todo el estado de Wisconsin se reunirán de manera virtual para una cumbre de dos días el 9 y 10 de noviembre. La cumbre Edible Startup Summit se enfoca en las empresas alimentarias que están en las primeras fases del desarrollo empresarial.
Organizada conjuntamente por UW-Madison Extension del condado de Dane y el programa de sistemas alimentarios comunitarios de la UW-Madison Division of Extension, esta cumbre estatal ofrece formación integral e interactiva sobre qué se necesita para desarrollar una empresa alimentaria local.
Expertos de todo el estado proporcionarán información sobre una amplia variedad de temas, incluyendo:
las tendencias de las empresas alimentarias
cómo desarrollar un plan de negocio
los requisitos de seguridad alimentaria
cómo crear una marca personal
la innovación empresarial durante la pandemia de COVID-19
cómo hacer llegar su producto al consumidor
cómo trabajar con el distribuidor
los sistemas de pedido en línea
Los asistentes también tendrán la oportunidad de hablar cara a cara con veteranos del sector para hacer consultas y establecer contactos con otros emprendedores.
Para pedir acomodaciones para la comunicación debido a una discapacidad, favor de contactar a: heather.stelljes@wisc.edu
La University of Wisconsin-Madison Division of Extension proporciona acción afirmativa e igualdad de oportunidades en educación, programas y empleo para todas las personas calificadas, sin tener en cuenta la raza, color, género, credo, discapacidad, religión, origen nacional, ascendencia, edad, orientación sexual, gravidez, estado civil o de paternidad, historial de detención o condena, o estado de veterano de guerra.