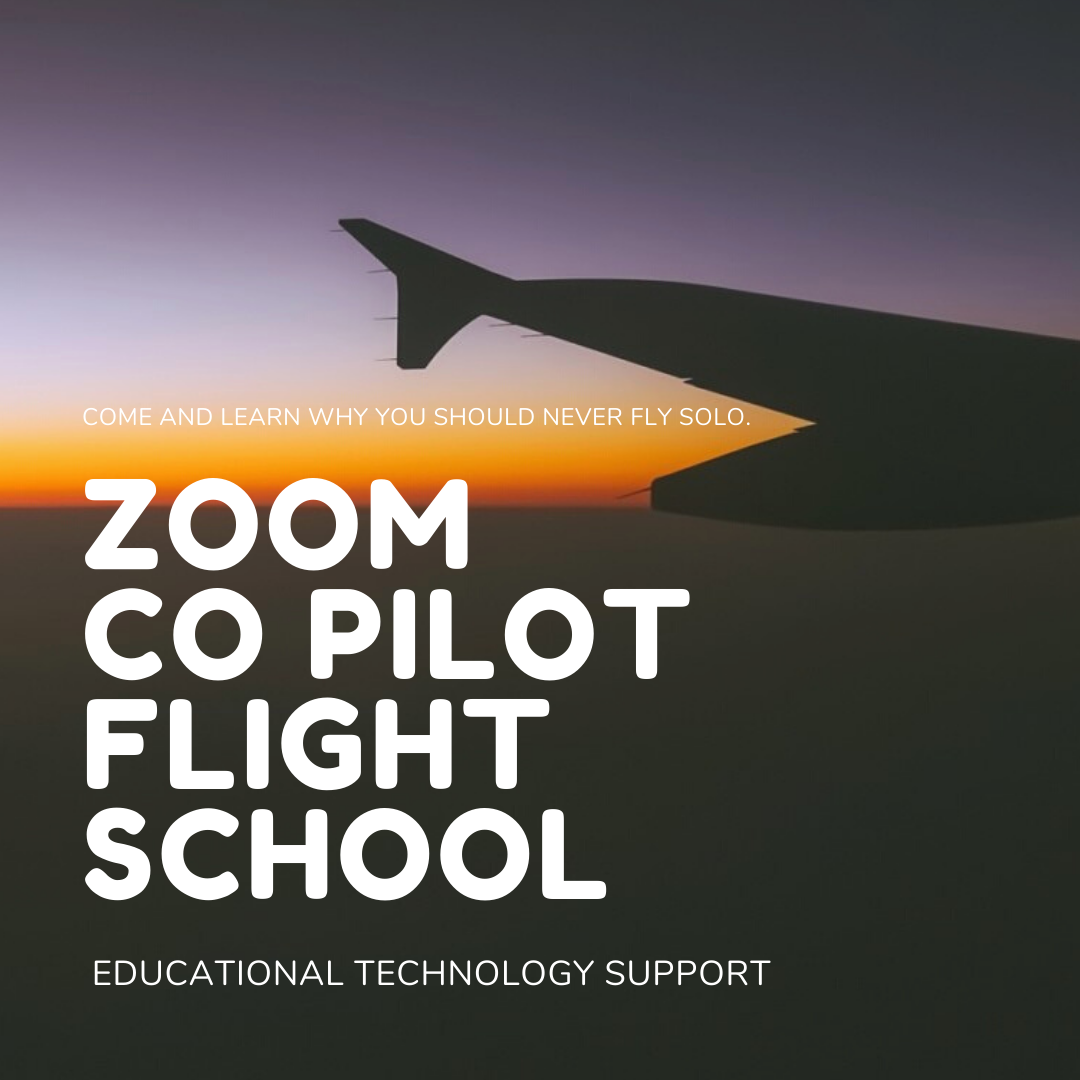 Have you ever wondered how one mere mortal can be expected to present, answer chat, and solve the dreaded "my headset is not working" question all at the same time? We have an answer: DON'T, and don't make your colleagues try. Instead sign-up for Zoom Co-Pilot Flight School. Here you will learn and practice all the skills to become the very best Zoom Co-Pilot you can be.
Each Flight Track will be 3 one-hour sessions done over the course of three weeks. We ask that you commit to attending every session before you sign-up for a track. If you are not available for a session, please sign-up for a different track and check back often as we anticipate adding tracks on a regular basis. If you click on the registration link and the link does not work registration for this track is full.
Over the course of your track you will learn:
First session: Learning the Controls
Scenario: your host is presenting content over Zoom and asks you to be their co-host, what's your checklist for communicating with them?
What does a Co-host do?
Common vocabulary, technology troubleshooting
Host vs. Co-host (editing polls, adding co-hosts, creating & launching breakouts)
Security, participants, chat (where and what can be adjusted)
Troubleshooting scenarios
Checklist/form to run through with host for shared expectations (flight plan)
Second Session: Filing Your Flight Plan
Going through the form, what and WHY the questions are asked, how role with shift
Large audience vs. small audience roles are different
Knowing when to ask for help (control tower)
Handholding/emotional support
Livestreaming
Unexpected turbulence (troubleshooting scenarios, handholding, presentation prep, meeting debrief, last-minute requests)
Third Session: Flight Simulation Training
5-minute presentations with trade-off co-hosts and your colleagues best attempts at work appropriate Zoom Bombing
Check out the Ed Tech Calendar to sign up!