You are viewing information about a past event.
Event Information
Date:
May 18th, 2022
Time:
1:30pm - 2:30pm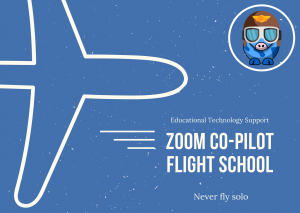 Each Flight Track will be 3 one-hour sessions done over the course of three weeks. We ask that you commit to attending every session before you sign-up for a track. If you are not available for a session, please sign-up for a different track and check back often as we anticipate adding tracks on a regular basis. If you click on the registration link and the link does not work registration for this track is full.
Over the course of your track you will learn:
First session: Learning the Controls
Scenario: your host is presenting content over Zoom and asks you to be their co-host, what's your checklist for communicating with them?
What does a Co-host do?
Common vocabulary, technology troubleshooting
Host vs. Co-host (editing polls, adding co-hosts, creating & launching breakouts)
Security, participants, chat (where and what can be adjusted)
Troubleshooting scenarios
Checklist/form to run through with host for shared expectations (flight plan)
Register at  https://go.wisc.edu/tf10xr