Cooperative Extension employees have access to a vast wealth of training videos via the lynda.com website!
Tech Services provides online and face-to-face training for CES customized applications of WordPress (FYI, Counties, Blogs), SharePoint, and Google tools.  Note: The lynda.com courses on these products may not be applicable to our customized installations.
lynda.com provides training for commercial products such as Microsoft Office and Adobe products.
lynda.com helps anyone learn software, creative, and business skills to achieve personal and professional goals. lynda.com contains a vast library of high quality, current, and engaging video tutorials taught by great teachers who are also working professionals.
Logging into lynda.com
lynda.com offers a variety of classes and training for web programs and software.
1. Go to www.lynda.com.
2. Click Sign In at the top of the page.
3.  An new window with various options to sign in will appear.  Select 'Sign in with your organization'
4. You will be prompted to enter your organization's URL to log in through their port. In the box provided enter 'www.uwex.uwc.edu'
5. You will be redirected to the UW Colleges &UW Extension login page. Enter your full Cooperative Extension email address (@ces.uwex.edu) and password, then click LOG IN.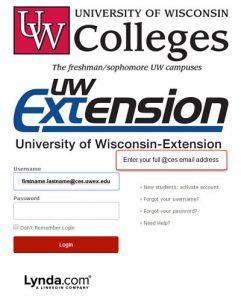 Now enjoy some videos!