The COVID-19 pandemic has undeniably altered the educational landscape. The hinderances posed by the pandemic extend to education by limiting opportunities to participate in enriching, in-person programming. On this page you can find remote and virtual resources from Upham Woods Outdoor Learning Center that support at-home learning or outdoor activity during the COVID-19 pandemic. These resources represents a commitment to community science and providing enriching, environmental education programming during COVID-19 and beyond. Read below for more in-depth descriptions of the available programs and resources, including synchronous (learning happens at the same time for the instructors and the learners), and asynchronous (learning doesn't necessarily happen at the same time for the instructors and learners) resources.
Live from the Field Visits |
Earth Stories Exchange | Remote Conservation
STEM For All: Water Stories | Bringing it Back to Ranger Mac
---
Live from the Field Visits – Educators Welcome! 
Virtual and interactive field experiences at Upham Woods.
While it may not be possible for classes to go on field trips right now, Upham Woods is working with educators interested in live streaming their classes from Upham! Together, Upham Woods and educators can co-explore the grounds to meet classroom objectives. Visit Upham Woods to show students how to collect data in the field, identify trees, and use their unique outdoor laboratory to support students. Introduce something new to your online classroom! Contact Program Director, Isabelle Herde at isabelle.herde@wisc.edu to schedule a visit!
Why share stories about nature and science?
Uniting storytelling and science emphasize relationships between the experience, narrator, and scientific data.
These connections and self-centered discoveries lead to:
Deeper reflection on a scientific experience
Developing STEM skills
Creating a positive relationship between participant and science (Hougham et al., 2020)
A multicultural and individualized approach inviting broader participation in science (Zocher & Hougham, 2020)
_________________________________
Earth Stories Exchange 
Asynchronous remote outdoor learning for all. Free.
Storytelling is an important part of an Upham Woods experience. Each participant writes a story about what they did and discovered. We have seen some truly creative and innovative reflections before. We miss the stories! The Earth Stories Exchange is simple. For more information and a submission form you can mail in check out this flyer.
Get outside! You can hike, build a fort, wander, go fishing – anything!
Notice, observe, question everything around you, and write it down.
Create a story based on what you did!
Share your story by…
Upham Woods Naturalists
N194 County Rd N
Wisconsin Dells, WI 53965
Upham Woods send you a story back about what's happening in their neck of the (Upham) woods! They will send you a story back through the channel you chose to submit to us unless you indicate otherwise.
What should I do outside?
How do I do science outside?
Example of activity and potential data collection

Build a fort, go fishing, forage for morel mushrooms, sit in the sunshine, go on a hike, make a bird feeder, skip rocks on a pond, paddle in your canoe, hug a tree, garden, make a mud pie, pull the invasive species garlic mustard and watch this video to show you how. You can get up to tons of stuff – the world is waiting…

You can also look here for more ideas.

The Earth Stories Exchange focuses on two parts of the scientific process: observation and question forming. Try to make sense of what's happening around you. 

At Upham Woods, we use inquiry activities to help jumpstart our observations. Inquiry activities are games that help you decide what to focus on or where to start observing.

Going on a hike.

I wonder if I'll see more birds closer to my house or farther away… I have a bird feeder so I think I'll see more close to my house.

As you hike count the number of birds you see and where! Write them down so you don't forget.
Here are some scientific stories from some 6th graders!
Camping up North and seeing bear cubs
Mowing the lawn and finding a bird nest 
_________________________________
Remote Conservation
Asynchronous remote learning opportunities. Free.
Take part in Upham Woods 10k Conservation Challenge. Complete a conservation service project within your community and fill out this survey. Upham Woods will count your service towards the 10k Conservation Challenge. If you need some ideas on how to get started, take a look at the video and handout below. Reach out to Isabelle Herde at Upham Woods (isabelle.herde@wisc.edu) with any questions or help with organizing your service project.
Help Upham Woods reach their goal of putting 10,000 hours of conservation work into the Wisconsin landscape!
_________________________________
STEM For All: Water Stories
Asynchronous virtual learning opportunities. Free.
The Wisconsin Youth Water Stories Summit camp at Upham Woods was selected by the National Science Foundation to be a featured video during their STEM For All Video Showcase. The video showcase lasted a week in May but the videos are still available. In this feature, there are accompanying prompts and activities to encourage deeper thought about the project around water education. The video can be seen here: https://stemforall2020.videohall.com/presentations/1707
The worksheets are available here:
Science Communication and Community – includes thought-provoking questions about how to engage communities with water issues. Appropriate for older students (7th grade +)
Make your H2Own Story – includes prompts to discuss the content of the video.
Where is Your Water From– includes questions about water resource allocation and use.
_________________________________
Bringing it Back to Ranger Mac
Asynchronous remote learning opportunities for youth broken into three phases. Free.
As Upham Woods considered how to translate their place-based programming to a remote and digital learning format, it occurred to us that we had already done this 79 years go with Wakelin McNeel aka Ranger Mac, their first superintendent. On his radio program, "Afield with Ranger Mac", Ranger Mac led discussions in classrooms around the state on conservation biology, observation, and student-driven discovery of the natural world. To keep Upham Woods tradition alive, they've called this program Bringing it Back to Ranger Mac!
The three phases build off of each other but may be used independently. Participate in as many or as few as needed. Upham Woods staff are available to assist with implementation and integration into the curriculum. Find a description of the phases and sign up here.
*At this time, Upham only has staff and capacity to support our contracted groups in BBRM.
These projects were developed following the North American Association of Environmental Education Guidelines for Excellence. The initiatives of this project build upon the objectives of EPA local grant 00E02399.
How to Make your own Nature Journal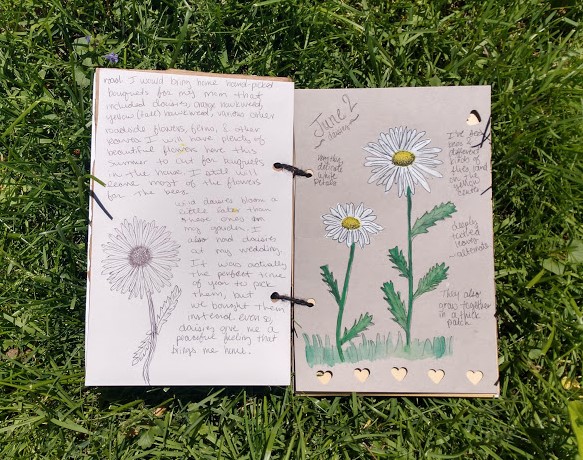 Asynchronous remote learning opportunities. Free.
Nature journaling is another great way to tell stories about our observations outside. When you observe your natural surrounding closely and record your observations through lists, stories, or sketches, you are doing science! We look at nature journaling as a bridge between science and art and it's for all ages! Check our these instructions to make your own!  Anything recorded in a nature journal is also an Earth Story! See the Earth Stories Exchange above to learn how to submit your journal entry as an Earth Story.