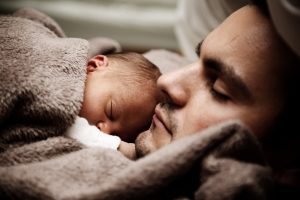 Starting at a very young age, children become good at reading other people's emotions. Even babies and toddlers can sense when you are in a bad mood or feel when the relationship between their parents is strained.  Although you may be on an emotional roller coaster, remember to be consistent and affectionate in sharing your love with your child.
Be an eParent®! Plan ahead and record yourself reading a book, sharing a poem, or singing a special song to your child. Listening to these recordings when you are away can help children of any age feel your constant love and care. You could also plan an online video chat session for your child with the parent who is not present to remind your child of both parents' love.
"I love you" is a powerful message and saying or showing it often reminds your child that some things remain the same during a separation. Listening to recorded books or talking to the other parent on a video chat doesn't only reinforce your love and care. These interactions can also build children's language, reading, and communication skills.
Check out this website for some ideas on how to get the most out of video chats with young children and toddlers.
Learn more about the University of Wisconsin – Madison/Extension Human Development & Relationships Institute online or on Facebook.