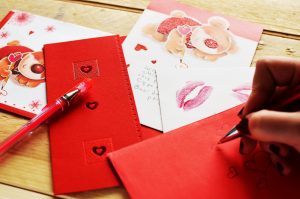 Sealed with a kiss. We may not send many cards by snail mail any more, but sending cards and notes is still a good way to remind people we don't see often of our love.
Be an eParent®! Help your child send free e-cards to all of his or her grandparents and encourage the grandparents to send them to your child in return.
By encouraging your child to communicate with his or her grandparents, you show your child that family relationships matter. Include relatives from both sides of your child's family and model positive relationships with the important adults in your child's life. Just like mom will always be mom and dad will always be dad, grandparents are still grandparents even if your family doesn't live in the same house.
Learn more about why communication with grandparents is important to children's healthy development.
Learn more about the University of Wisconsin – Madison/Extension Human Development & Relationships Institute online or on Facebook.