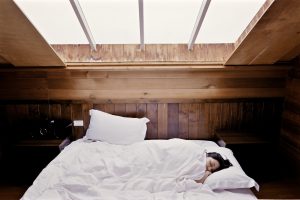 Extracurricular commitments, homework, and friends can quickly subtract from tweens time to sleep. This can be especially difficult for middle school students who need 9-10+ hours of sleep.
Be an eParent®! Help your child get a good night's sleep by minimizing screen use two hours before bed. The bright light, especially from tablets that are viewed up-close, may delay sleep.
Start by monitoring how much sleep your child is getting this week. To keep your child from seeing this as a negative, share your concern about their wellbeing by tying it to something they care about – an upcoming sports game, a test or big project they want to ace, or an outing with friends. Reinforcing good sleep practices for your child will be a win for you too – you can model these practices and maybe get some more shut-eye yourself!
How much sleep is recommended for middle school age kids (and other ages)? Check it out the CDC's recommendations with your child. (You can even send someone an e-card on sleep!)
Watch this video for other tips for teens on how to sleep better.
To learn more explore our Parenting and Family Relationships website or like us on Facebook.
Revised November 2018