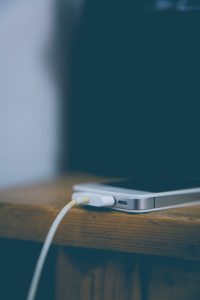 Chocolate, exercise and technology – all can be too much of a good thing!  It can be easy to forget that tweens look to us for clues about how to use digital media. The more we bring technology into our lives, the more they notice our escalating use. This makes it important to model healthy and balanced use of technology because children and tweens are excellent imitators of adult behaviors.
Be an eParent®! Model balanced technology use in your home by requiring all media devices be in a central charging location by a certain time every night (yours included!). Ask your tween to hold you accountable by setting an alarm on his phone to remind the family.
For the most part, digital media use is a convenient and beneficial part of modern life (sort of like cars and air conditioning). However, just as wearing seat belts can increase the safety of cars, thoughtful use of digital media can increase the benefits of digital technology. Research shows that children who multitask on digital media (for instance, using a smart phone while watching TV) for more than a combined 16 hours per day are more likely to have poorer grades, more depression, and more troublesome behavior than tweens who are using technology for less than 3 hours per day. We model responsibility when we work with our tweens to set digital media boundaries for the whole family.
You may find these screen time tips from Kid's Health helpful.
To learn more explore our Parenting and Family Relationships website or like us on Facebook.
Revised November 2018