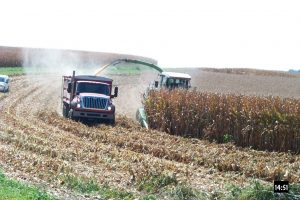 Corn Silage Pricing Resources
Finding a Value for corn silage that is fair is important to both farmers who will be buying and selling corn silage this harvest season.  Here are some University of Wisconsin division of Extension Resources to help with determining a price for corn silage.
Joe Laurer has created this document to help understand methods for pricing corn silage based on grain and forage yields, it has been updated and can be found here :A133-2019 (Revised 2020) – Adjusting Producer-Dairyman Corn Silage Contracts (1)
Additionally Greg Blonde and Ryan Sterry teamed up to create a corn silage pricing app for both android and iphone users  It's based off a detailed spreadsheet Sterry developed with input from several state Extension specialists (Shaver, Lauer, Linn).  The app includes links to current corn and hay market prices and allows buyers and sellers to enter their own yield estimates and harvest costs.