Posts (See All)
Printable Air Quality Publication

November 2, 2011

"Fond du Lac County Action for Air Quality" is complete.  This publication describes all of the ways that air quality matters locally and includes notes about actions manufacturers and groups like the Asthma Coalition are taking to improve it.  If you would like hard copies of this publication, contact our office about how many you […]

Burn Wisely With Outdoor Wood Boilers

October 18, 2010

Using wood as a heating fuel contributes more fine particle pollution to air in Fond du Lac County than any other single source. If you can smell smoke or see a plume, you are likely breathing in contaminants.  Listen to my interview with the Wisconsin Radio Network.
Resources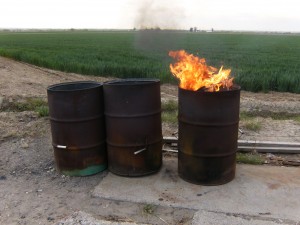 UWEX Fact Sheet on Burn Barrels (PDF, 2 pgs)
UWEX Burn Barrel Fact Sheet – 1pg (PDF, 1 pg)
UWEX Burning News for Builders (PDF, 4 pgs)
UWEX Wood as a Heating Fuel (PDF, 4pgs)
Guidance on the Use and Regulation of Outdoor Wood Boilers (OWB's) – WI Department of Health Services
EPA Burn Wise Site (look at this before buying, installing, or operating a wood-burning appliance)
photo credit: David Liebl