Posts (See All)

Radon Resources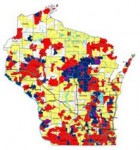 State of Wisconsin Radon Program (www.lowradon.org)
Radon & Residential Construction: Presentation for the Homebuilders Association of Fond du Lac and Dodge Counties. Approved for CEU's from the WI Dept. of Commerce.
To purchase a radon test kit, contact:
Fond du Lac County Health Department
160 S. Macy (3rd Floor)
Fond du Lac, WI 54935
920/929-3085
Short-term kits (48 hours) cost $10.
Long-term kits (90 days – 1 year) cost $20.