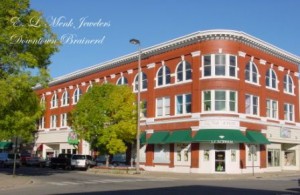 Store Name E.L. Menk
Maintaining history and public space

Business Type General Merchandise Stores

NAICS Code 452

Location 623 Laurel Street, Brainerd, MN 56401

Nearby Businesses CoCo Moon coffee house, Itsy Bitsy

Owner/Manager Ed Menk

Special Store Activities n/a

Year Opened 1979

Website n/a

Phone (218) 829-7266

E-mail menk@brainerd.net

Community Profile Brainerd (population: 13,178; 10-mile radius: 32,982) is located in Central Minnesota 125 miles north-northwest of Minneapolis and is the county seat of Red Crow County. Straddling the Mississippi River, there are over 460 lakes within 25 miles of Brainerd, making it a major tourist destination.

         

Products Sold & Niche Developed

E.L. Menk is a locally-owned, full-service jeweler that has become a cornerstone business in downtown Brainerd, specializing in custom-made jewelry. E.L. Menk completes 100% repairs in-house, including laser welding and computerized engraving. Product lines include diamonds, colored stones, watches, and necklaces. Mr. Menk is a graduate gemologist with experience in the total picture of jewelry.

Market Segments Served

Most of the patrons of E.L. Menk are between ages 40-75. The busiest period is the summer months (May – August) due to the influx of seasonal residents and tourists to Brainerd. Many patrons frequent E.L. Menk for their reputation in restoration of difficult and "impossible" to repair items.

Contributions to the Business Community

E.L. Menk works closely with other downtown business leaders to promote downtown activities. Mr. Menk is active in local economic development, planning, and Main Street Program. Mr. Menk voluntarily contributes to maintain public amenities in the downtown, including landscaping. Giving back to the community and supporting local business vitality is central to E.L Menk's mission. E.L. Menk practices responsible jewelry practices, such recycling old and salvaged precious metals and stones. Located in the historic Parker Building, E.L. Menk has restored this 1909 building which had been in disrepair and is now listed on the National Register of Historic Places.
Review by: Joshua Clements, UW Extension CCED