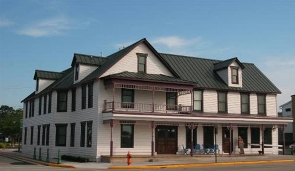 Store Name The SweetSpot Cafe

Business Type Restaurants (Food Service and Drinking Places)

NAICS Code 722

Location 226 W Whitewater Street, Whitewater, WI 53190

Nearby Businesses Whitewater Municipal Building, Associated Bank, The Black Sheep

Owner Lacey Reichwald

Special Store Activities Art gallery

Year Opened 2006

Website http://www.cafe.sweetspotwhitewater.com

Phone 262-473-5080

E-mail contact@sweetspotwhitewater.com

Community Profile Whitewater (population: 13,437, ten mile radius population: 42,911) is located 35 miles southwest of Madison, WI. The region is dominated by rolling hills and agriculture soils that are among the worlds most fertile. Whitewater is home to the University of Wisconsin Whitewater and a historic downtown located along the shore of Cravath Lake. Downtown Whitewater is home to many historic buildings and estate homes, many made from Whitewater Cream Brick, which had been produced at a local brickyard in the late 1800s and early 1900s.

Products Sold & Niche Developed

The Sweet Spot is a full-service café serving locally-roasted fair-trade coffee, tea, and specialty drinks. Food items include a breakfast selection, fresh pastries made at their second location, The SweetSpot Bakehouse, soups and salads, premium sandwiches, wraps, paninis, desserts, local beer and wine.

Market Segments Served

The SweetSpot draws from across the community. The SweetSpot is especially popular as a lunch and meeting destination for downtown workforce, and with the university student segment. Appeals to local food niche.

Contributions to the Business Community

The SweetSpot is located in the historic Whitewater Hotel building, which was built in 1894, which was purchased by a new owner and restored in 2006. The building ceased use as a hotel in 1954, and fell in and out of use for decades. It changed ownership and restored was following a fire. The SweetSpot occupies the first level, with apartments on the second and third levels. The Whitewater Hotel is listed on the local, state, and National Register of Historic Places.

Owner Lacey Reichwald serves on the Board of Directors for the Whitewater Grocery Cooperative. Lacey is a UW-Whitewater graduate who saw the opportunity in the restored old Whitewater Hotel and began to develop capacity and energy in the downtown.

The SweetSpot has quickly become the social center of the Downtown, a popular lunch location for nearby businesses and municipal buildings, as well as a favorite hangout and study place for students. The SweetSpot is known as a "community hub", serving as informal headquarters for a number of local groups and organizations to meet, such as the Optimist Club, Relay for Life, local artist groups, and others. The SweetSpot includes exhibit space for local artists.
 Review by: Joshua Clements, UW Extension CCED