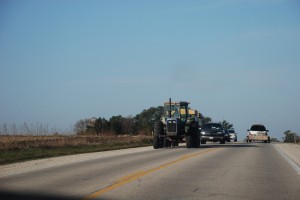 On Tuesday, January 21, 2014, Cheryl Skjolaas, Interim Director of the UW-Madison/Extension Center for Agricultural Safety and Health presented at the annual Trio Conference (Professional Nutrient Applicators (PNAAW), Wisconsin Custom Operators (WCO) and the Midwest Forage Association (MFA). Her presentation "IOH Study: What We Learned and the Road Ahead" provided a comparison of the current laws related to agricultural equipment on public roads and proposed legislation under discussion at this time.
Informational resources from her presentation are available as pdf for download using the links below.
ioh ag cmv comparasion chart 1.21.14  This is a table comparing current and proposed regulations related to operating implements of husbandry (IOH) on public roads in Wisconsin.
Agricultural Vehicles 1.21.14 background info  This document provides background information on the proposed legislation for operating IOH on public roads.