Do you ever wonder …
How to get your credit report and how to read it?
Who else can see it?
How to improve your credit rating?
Whether it even matters?
A credit rating does matter–and not just when it comes to loans. You may already know that a good credit score can help you get a lower interest rate on a loan and dramatically reduce your costs. But your credit history can also impact your insurance rates, your ability to rent an apartment and even your chances of landing a job. Paying attention to your credit history pays off.
This module takes about 45-60 minutes to complete. By the end of this module, you will be able to…
…describe what a credit score and credit report are and how they affect you.
…check and understand your own credit report and dispute any mistakes in it.
…identify how to build up a good credit score and avoid a bad one.
Complete the following pre-learning check to test your knowledge. Answer "true or false" to the three statements below. Click on the blue box to find the correct answer.
False, checking your own credit report or score has no effect on your credit score. Your credit score is only affected if you have so called hard inquiries on it, for example when you apply for new credit. Most financial institutions offer a free service to check your credit score. It is a good idea to check your credit score every now and then to know how your credit score is moving around.
False, you could actually save $3,000-$5,000 or more on a $15,000 5-year auto-loan if you have a great credit score versus a bad one. Good credit makes a big difference!
True, your income, age, or marital status by themselves do not affect your credit score. However, borrowing more than you can handle with your income does, as does a lengthy credit history.
Here's how it works…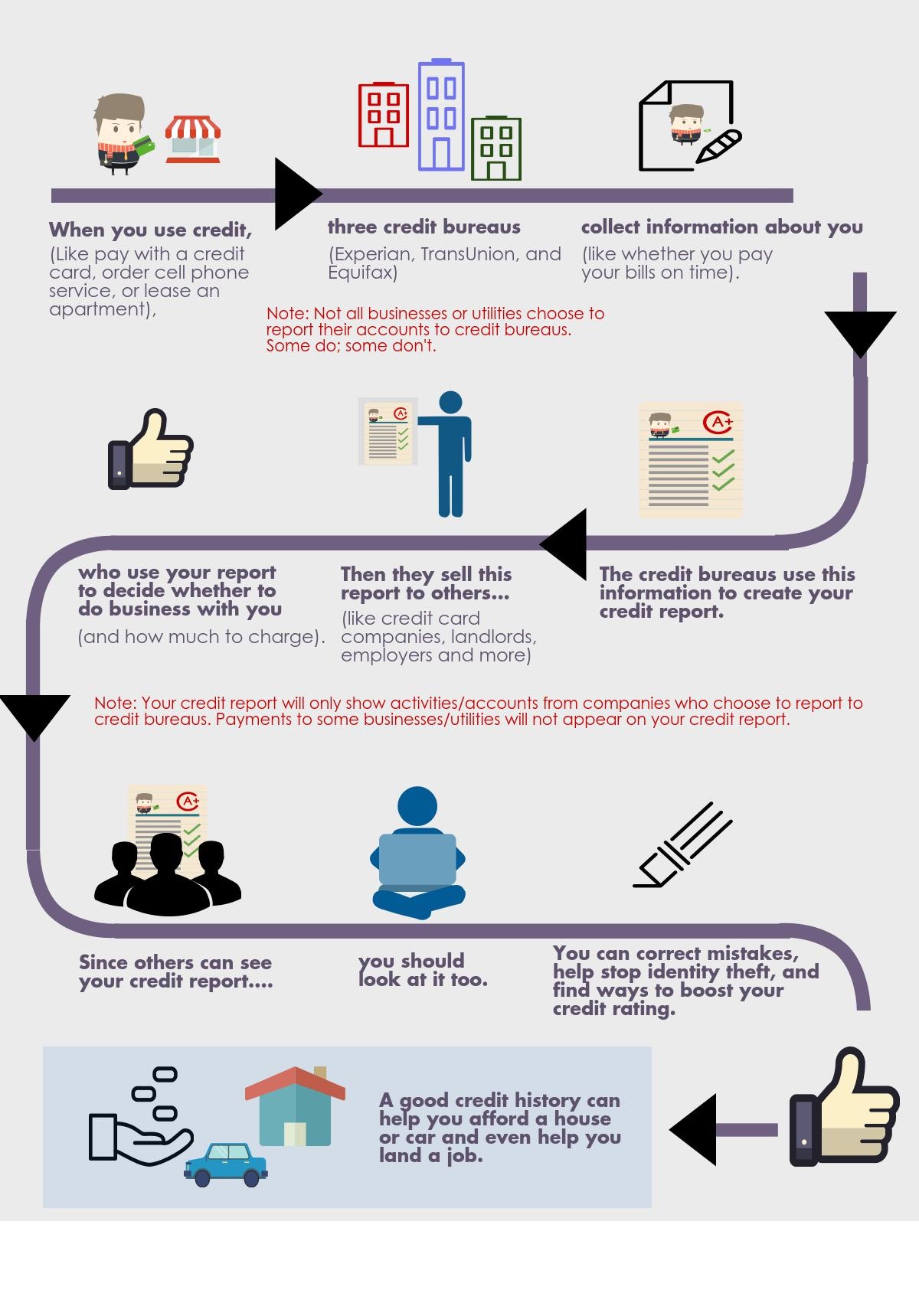 Let's learn more…
Sometimes it seems like everyone can see your report. Isn't it time you looked at it too? To order your report, visit the only official free website at: www.annualcreditreport.com. It's best to do this from a home computer and not on a public wireless network. If you're not comfortable ordering your report online, scroll down for other options. For tips on how, when, and where to order your free credit report, watch this UW Mindful Money Moment.
Here's what to expect when ordering your own report:
Be prepared to provide your social security number and other identifying information.
You'll be asked to choose one of three credit bureaus (Experian, Transunion, or Equifax) and will then be linked directly to their site. You can order one report, or all three at the same time.
You will see advertising for other paid services, but you can ignore this. There is no cost for ordering your free annual credit report. (Remember a credit score is not free, only a credit report.)
You'll be asked to confirm your identity by answering some short questions about yourself. This helps the bureau make sure it's really you.
You can save and print your credit report.
For help reading your report, visit the UW-Extension Credit Report website or contact your UW-Extension Financial Educator.
Sometimes, for a variety of reasons, you may not be able to get one of your three credit reports online. For example, if you don't get the answers 100% correct on the identity questions (this is common), you might be told you cannot get a report online that day. If this happens and you can't order your report online, don't worry. Simply choose a report from one of the other two bureaus or follow the directions below to order your report by phone or mail.
It takes about 10-20 minutes to go through the steps to receive credit reports depending on how many reports you request.
To order a free annual credit report by phone: Call 1(877) 322-8228

To order one by mail: Send a request form to
Annual Credit Report Request Service
P.O. Box 105281
Atlanta, GA 30348-5281
Requests by mail may take 2-3 weeks for delivery
How to read a credit report There's a lot of small print but it's not hard when you know what to look for. These sample reports can help. Notice that each looks a little different, but they all provide similar information about your credit history. (First visit how to read a credit report. Then look at one or more sample reports below.)
Experian Sample Credit Report — Start with this sample for a step-by-step walk-through of what to look for.
What to do if you find an error on a credit report. Errors are common. People who work with your report can make data entry errors or simply mistake your record for someone else's. Learn what to do if you find an error.
Do you know what goes into your credit score?
Check out this video that explains how FICO scores are calculated.
What Goes Into FICO Scores?
Want to raise your credit score?
Watch these UW Mindful Money Moments for tips:
Certificate of Completion
If you'd like to certify that you've completed this module, be sure to contact a UW-Extension Financial Educator to find out about program requirements.