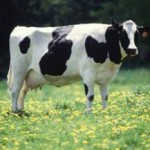 Matt Ruark, UW-Extension soil scientist
Assistant Professor,Department of Soil Science
UW-Madison College of Agricultural and Life Sciences
mdruark@wisc.edu
(608) 263-2889
Matt Ruark talks about research aimed at reducing the carbon footprint for dairy. More information can be found here: http://bit.ly/102JC2Q
3:04 – Total Time
0:16 – New project to reduce greenhouse gas in dairy
0:37 – Why soil carbon is important
1:05 – Resilient, sustainable soil
1:28 – Measurements first
2:00 – Soil carbon management
2:24 – When to expect research results
2:50 – Cooperating scientists
2:55 – Lead out
###
matt_ruark_new_project_to_reduce_carbon_footprint.mp3 
To download mp3 file: for PC users, right click and select "Save Link As"; for Mac users, Ctrl+ click and select "Save Link As"
If using Firefox and having trouble playing Podcast audio, please update browser to Version 22 or higher.
Transcript
Sevie Kenyon: Matt, can you tell us a little bit about the recent grant you've received?
Matt Ruark: The focus is on greenhouse gas reduction as well as adaptation to climate change. And so the focus of our grant is on dairy production systems, so we'll be working across the dairy production system looking at how to improve efficiencies at the cow, the manure, and the soil levels.
Sevie Kenyon: Matt, can you describe for us what carbon is and why it's important?
Matt Ruark: The reason why we want to build carbon in soils comes back in terms of soil productivity. Soils with greater amounts of carbon lead to greater soil aggregation, retention of nutrients, and retention of water. So any sort of reduction in the amount of carbon that we have in our topsoil reduces soil fertility.
Sevie Kenyon: Matt, you're a soil scientist and you use this term 'soil resiliency.' Can you tell us what that means?
Matt Ruark: Well so for me, soil resiliency is about how we're going to manage soils for the future. So in the face of more extreme weather conditions, how should we be managing our soils to do a few things: one, retain carbon; two, to supply nitrogen; and three, to store and retain water.
Sevie Kenyon: Matt, can you give us an idea what you're going to be working on?
Matt Ruark: As a project director, I'll be working across the entire project, which includes measurement at the cow level. We'll also be working with manure in terms of storage and processing, as well as working across different cropping systems. So I think we'll be able to have a better understanding of what specific soil properties that we want to manage for to ensure that we're going to be able to build carbon, store water, and en-cycle nitrogen.
Sevie Kenyon: Matt is it possible to describe for us how carbon is stored and released from the soil?
Matt Ruark: There's several ways to manage your soil carbon. First would be to reduce tillage- to prevent the breaking up of those soil aggregates. The second would be to increase the amount of carbon we're working into our soils, so that means greater amounts of crop biomass returning to the soil, additions of manure, as well as use of cover crops.
Sevie Kenyon: Matt, do you have any sense of how long it will be before you have results from this research?
Matt Ruark: We're going to have results within the next few years. We're starting our cow level and manure level and soil level measurements right away. And really by the end of this five years, what we want to have is a user tool. Something for growers to use to one, evaluate their current level of greenhouse gas emissions; and two, identify management practices that can reduce the greenhouse gas emissions.
Sevie Kenyon: Can you tell us a little bit about your partners?
Matt Ruark: There's 13 institutions as part of this project, and 33 project investigators.
Sevie Kenyon: We've been visiting with Matt Ruark, Department of Soil Science, University of Wisconsin Extension, in the College of Agricultural and Life Sciences, Madison, Wisconsin and I'm Sevie Kenyon.