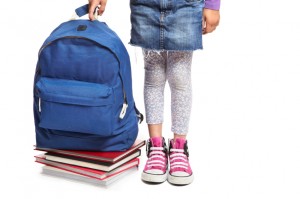 Annual ritual can help children learn to be smart consumers
Contact Bridget Mouchon, 608-328-9440, bridget.mouchon@ces.uwex.edu
Shopping for back-to-school is an annual ritual for many families. Bridget Mouchon, University of Wisconsin-Extension family living agent in Green County says it's also a chance to show kids how to plan and make smart budget decisions.
"It's easy to let back-to-school spending get out of control," says Mouchon. "Many families want to keep their school-related expenses in check. This year involve the whole family and use the experience as a learning opportunity. Including children and youth in spending decisions can help your kids become wise consumers."
Begin with a plan and get your kids involved. Mouchon suggests a step-by-step process to guide you and your children through the back-to-school shopping season.
–First, go through school supplies and clothes from last year and list all of the items and clothes that you already have on hand. Does your child really need a new backpack, or a new lunchbox? Do the jeans from last year still fit?
–Next, determine which items you absolutely must purchase. Use your child's school supply list, and also list needed additional clothes. (Tip: If a child is growing rapidly, it may make more sense to buy two pairs of jeans or khakis and rotate them, rather than buying several pairs at one time. Waiting to buy a winter coat until fall and pre-season sales allows time for the child to grow and a chance to net some savings.)
–Come up with a realistic total budgeted amount for supplies and clothing for each child in school.
Now, get the kids involved. Explain that there are many options available for buying the things they need. For example, a pair of jeans might cost $30 and up at a stylish chain store; $15-20 at a retail department store; $7 at a thrift or resale shop; and $3 at a garage sale. School notebooks cost from 50 cents to over $5. Let kids check out a thrift store and look through store fliers to price and plan for items they might purchase.
–Older kids can take your list of the things they need and come up with a line-item budget. A line-item budget lets them determine how much they will spend per item. Notice that at this point you still haven't bought anything.
–Engage younger children in learning about how much things cost, and how you, as an adult, make spending decisions. While shopping, for example, younger children can look at folders and see that the one with the cartoon character on the front is $3, and others are 10 cents. You will need to set spending limits on each category or item and help them understand those limits.
–Older kids will understand that if they buy six folders at 10 cents, as well other items at cheaper prices, they might have enough money left in their budget for brand-name sneakers. Learning to make decisions based on math skills, judgment and personal taste is what money management is all about. Setting limits on spending doesn't mean a lack of choices, but it does make kids have to think strategically.
–If teens are using money they earned, remind them of how many hours they need to work to pay for the items they want to buy. If they are earning $7.50 per hour at the local grocery store, they might take home about $4.50 per hour after taxes. It takes more than seven hours of work to be able to pay for a pair of $32 jeans.
–Be careful about using credit. Try to pay for back-to-school shopping with cash or from your checking account. If you use credit, make sure you don't spend more than you can pay off in one month, or billing cycle.
–Don't forget your calculator!
–Get started early. Because new clothes can be expensive, think about garage sales, friends or relatives with kids who are a little older than yours, as well as resale and thrift stores. "Look at the garage sale listings in the local paper to find garage sales with the size of clothes your children wear," says Mouchon.
–Try to find large-ticket items like sports equipment, scientific calculators, or musical instruments used or on online sites such as eBay.
Parents need to plan for fees paid directly to the school. Check school enrollment dates and fees, such as book rentals, band instrument rental or athletic fees, and required immunizations. List these fixed costs in the "must have" category.
"Call your school district to find out about help with school supplies. Local community organizations often collect these and donate them for families with difficult financial circumstances," says Mouchon.
Paying for lunch can also be surprisingly costly. Free and reduced-price school lunches and breakfasts can ease the pressure on the family budget; you can apply for these programs through your school district.
And it's not too early to begin thinking about next year. Ideally, parents and caregivers should save throughout the year for the expenses they estimate they will have in August. For example, say that it will cost about $300 per child for all school-related expenses, such as program fees, clothes, supplies and lunch. Divide this by 12 to determine a savings goal of $25 per month per child. This is a good goal for next year.
For more information and educational resources on managing your family finances, contact your local county UW-Extension office