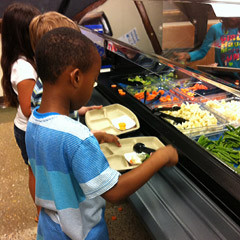 Michael Bell, Center for Integrated Agricultural Systems
Department of Community and Environmental Sociology
UW-Madison College of Agricultural and Life Sciences
michaelbell@wisc.edu
(608) 265-9930
Michelle Miller, Associate Director
(608) 262-7135
mmmille6@wisc.edu
Michael Bell and Michelle Miller highlight CIAS work and programs developed over the past 25 years.
2:55 – Total Time
0:15 Lead in
0:16 Defining Center for Integrated Agricultural Systems
0:40 Examples of fieldwork
1:10 Accomplishments of CIAS
1:30 Agriculture of the Middle
2:15 Model food system
2:45 Lead out

TRANSCRIPT
Sevie Kenyon: Michael let's start with you, tell us what the CIAS is.
Michael Bell: The Center for Integrated Agricultural Systems is a center that works on issues of sustainability, in our food and in our agriculture, and it takes a lot of pride in working very closely with citizens in deciding what our agenda should be.
Sevie Kenyon: Michelle can you give us some examples of the work you're doing in the field?
Michelle Miller:  We've got a wonderful list of programs that we do around the state of Wisconsin.  Many of you might know of Farm to School where we connect farmers up with schools in the classroom and also in the lunchroom. Very related to that is also our Eco Apple. We help orchardists figure out the most economical and viable way of raising apples for market, mostly local and regional markets.
Sevie Kenyon: Do you have some accomplishments you'd like to highlight?
Michael Bell: Well I think one of the places that we have made the biggest difference is in the promoting of grass based agriculture. Now about a quarter of the dairy farms in the state are working on grass based systems, and the Center has been very centrally involved, right from the start, doing research to help that form of agriculture develop.
Sevie Kenyon: Michelle do you have another example of a program you're working on?
Michelle Miller: We have a long-standing program now on Agriculture of the Middle. We are looking at working with farmers who are in the middle scale, they are not very small and they are not really large, but are family businesses that are trying to make a go of it in a tough market. And one of the issues that they've been dealing with is how do we pull together supply chains with customers to meet the growing demand for local food. This is requiring us to stretch and start working more with engineers and transportation planners and all sorts of other groups of people and brining them together to have those discussions to re-invigorate those supply chains.
Sevie Kenyon: Describe a model food system for us.
Michelle Miller: Today a lot of our food is coming from elsewhere; it's coming from California, Florida, Mexico. So we are talking about being able to go to your grocery store and getting food that is grown in this region.
Michael Bell: I think another point to think about food systems is if you are a local farmer in Wisconsin, you have a competitive advantage that no other farmer has. So therefore there is a real market opportunity that we can uniquely develop.
Sevie Kenyon: We've been visiting with Michael Bell and Michelle Miller, Center for Integrated Agricultural Systems, University of Wisconsin-Madison in the College of Agricultural and Life Sciences and I'm Sevie Kenyon.
More information about the Center for Integrated Agricultural Systems can be found on their website at http://www.cias.wisc.edu/