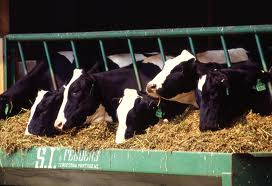 Third audio in a series produced in concert with the Wisconsin Agricultural Economic Outlook Forum Wednesday, Jan. 21 on the UW-Madison campus. Registration costs $15 and covers both the lunch and the forum. For more information and to register, visit: http://agoutlook.cals.wisc.edu/
Mark Stephenson, UW-Extension dairy policy analyst
Department of Agricultural and Applied Economics
UW-Madison College of Agricultural and Life Sciences
mwstephenson@wisc.edu
(608) 890-3755
Mark Stephenson explains the changes in the Margin Protection Program.
3:07 – Total Time
0:19 – New dairy policy enacted
0:40 – Margin Protection Program
1:10 – Half Wisconsin farmers enroll
1:46 – What triggers payments
2:17 – Western farmers reluctant
2:42 – Different than other risk management
2:57 – Lead out
TRANSCRIPT
Sevie Kenyon: Mark, there were some big policy changes during the year, can you describe that for us?
Mark Stephenson: So, it's a big deal for farmers and it's known as the Margin Protection Program. In the past we've had policy that dairy farmers didn't have to do much, if anything, to achieve the impacts and this time farmers have to make the decision about what do I need to do to impact my own farm and I have to pay some money in the way of a premium to get those results.
Sevie Kenyon: Mark, can you describe for us how the program works?
Mark Stephenson: Sure, the Margin Protection Program is a program that's going to measure the difference between the U.S. all milk price and a ration value to feed the cow. And when that margin falls to too low a level, it's like an insurance policy. A dairy farmer can protect themselves up to a certain level, if we fall below that level they would receive payments, dollar for dollar payments between what the level was and what level they protected themselves against.
Sevie Kenyon: Can you give us an idea how Wisconsin farmers are reacting to this new policy?
Mark Stephenson: Much as I anticipated, I guess, they've been cautious but have been signing up. It's brand new, kind of have a wonder I guess about how is this program actually going to work and work for me, so this is a policy they can sign up for annually and if they didn't get in this year maybe take a wait and see how did this work for my neighbor and then maybe decide if I want to do it. But we've had I think about half of the farms in the state who have signed up for the policy and this is going to be a year when we anticipate farms getting some payments actually.
Sevie Kenyon: Can you describe for us how those payments might get triggered?
Mark Stephenson: If the milk prices fall or the feed prices rise whatever you know would cause that margin to get smaller, the program could be triggered. Farms can buy up to an eight dollar protection on this margin and we're now forecasting that that margin is going to get down in the seven dollar range. So if you bought up at the higher levels of protection then you could expect to get a payment for the milk that you protected.
Sevie Kenyon: Mark, give us a sense of how dairy farmers across the country have reacted to the new program.
Mark Stephenson: They've reacted a little bit differently. It's not been the same in all regions. In the west, there were a number of farmers that felt like this program doesn't really fit my needs very well. But I think that as the year goes by, they'll look at next year and ask themselves the same question and maybe become convinced differently.
Sevie Kenyon: Mark, how is the Margin Protection Program different perhaps than other risk management practices.
Mark Stephenson: Well it is different because most of the other risk management practices would rely exclusively on something like a futures market. This is not that way. Congress simply said with a stroke of the pen here is the table of premiums for different levels of coverage.
Sevie Kenyon: We've been visiting with Mark Stephenson, Department of Agricultural and Applied Economics, University of Wisconsin-Madison in the College of Agricultural and Life Sciences and I'm Sevie Kenyon.