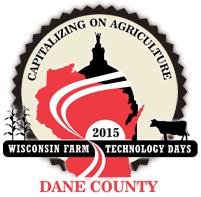 Contact: George Koepp, 608-742-9682, george.koepp@wisc.edu
Do you want to know the best way to manage weeds invading your fields or garden? Has your vegetable garden fallen prey to a mystery insect?
You can get the answers to questions like these when you visit the Progress Pavilion at Wisconsin Farm Technology Days, Aug. 25-27 in Dane County. In the University of Wisconsin-Extension section at the Progress Pavilion, you can consult Experts with specialties in plants, plant diseases, insects and soils.
Is something bugging your plants or chewing through the cornfield? Ask the Insect Experts, they're available with information about identifying and coping with insect problems.
The Plant Experts invite people to bring in their sick plant for a diagnosis and treatment plan.
Stop by the Soil Experts booth to learn more about your soil. The Soil Experts will show visitors plants with problems caused by nutrient deficiencies and explain how to best use on-farm nutrient sources such as manure and legumes.
Wondering what the weed is that's choking the lawn and how to get rid of it? The Weed Experts will be on hand to help visitors identify weeds, answer questions about managing weeds and oversee the Biggest Weed Contest.
For more information about Wisconsin Farm Technology Days, visit www.wifarmtechnologydays.com .
Agriculture and natural resources is a program of the University of Wisconsin-Extension in partnership with local, state and federal government in each Wisconsin county.
###