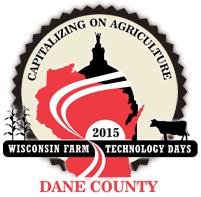 Contact:
Kevin Shelley, 608-575-4746, kshelley@wisc.edu
Nick Baker, 608-757-5696, nick.baker@wisc.edu
University of Wisconsin-Extension is assisting farmers' efforts at meeting soil and water conservation objectives, and enhancing productivity and profitability by improving soil health, through innovative use of cover crops.
Cover crops are planted for growth between harvest and planting of annual field crops during otherwise fallow periods. Their cover protects against soil and nutrient loss and also conditions the soil by adding biological diversity and organic matter.
Farmer interest in cover crops, and thus the need for objective, research-based information, has exploded in recent years. UW-Extension has been a leader in Wisconsin in collaborative research and educational outreach with development of field trials, informational publications, training workshops, conferences and field days.
An outdoor exhibit will showcase cover crop options at Wisconsin Farm Technology Days' Education Square. Sixteen species, and species mixtures, will be grown in small plots for observation. Signage will describe each species' niche in crop rotations as well as management considerations and approximate costs. Adjacent plots will showcase seeding mixes for wildlife food plots, a popular topic for questions from many Wisconsin Farm Technology Days attendees in recent years.
Cover crop species planned for demonstration in 10'X15' plots at Education Square are:
Medium red clover
Berseem clover + Crimson clover
Beseem clover + Annual ryegrass + Daikon radish
Berseem clover + Barley + Dwarf Essex rape
Field pea + Barley + Daikon radish
Purple top turnips
Cultivated crabgrass
Cowpeas
Sorghum sudangrass + Cowpeas
Buckwheat + Cowpeas
Buckwheat
Annual ryegrass
Cereal rye
Japanese millet
Triticale
Wisconsin Farm Technology Days will be held Aug. 25-27 in Dane County. For more information about Wisconsin Farm Technology Days, visit www.wifarmtechnologydays.com .
Agriculture and natural resources is a program of the University of Wisconsin-Extension in partnership with local, state and federal government in each Wisconsin county.
###