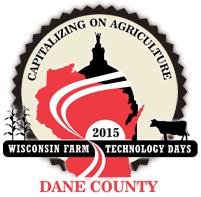 Contact:
George Koepp, 608-742-9782, george.koepp@wisc.edu
Scott Sanford, 608-262-5062, sasanford@wisc.edu
Stop by the University of Wisconsin-Extension's Education Station at Wisconsin Farm Technology Days to learn about cutting edge technologies that support Wisconsin's agriculture.
UW-Extension specialists and agents will be available to answer questions on a variety of topics, including:
Selecting, establishing, managing and terminating cover crops. This exhibit complements the adjacent outdoor cover crops display. Talk to UW-Extension specialists and agents to learn about the benefits of cover crops as well as recommendations for selecting, establishing, managing and terminating cover crops.
LED lighting for home, office, barn and outdoor lighting. An interactive display allows visitors to test the brightness of lighting and compare energy consumption. Find out about new, more energy efficient, cost effective options that are available to replace lighting technologies that are being phased out.
Best practices to keep poultry flocks safe. With the confirmed cases of avian flu in Wisconsin in early 2015, it's important that all poultry owners know how to prevent infection in their flocks.
Wood is an abundant resource in Wisconsin. Learn how businesses, schools, greenhouses and residences currently using LP gas, heating oil or electricity may be able to reduce their energy cost with the use of efficient wood burning appliances.
Tickets for the UW-Extension led tour of the host farm will also be available at Education Station. Tours depart directly north of the Education Station. A highlight of the tour is a video of a day in the life of a cow.
Wisconsin Farm Technology Days will be held Aug. 25-27 in Dane County. For more information about Wisconsin Farm Technology Days, visit www.wifarmtechnologydays.com .
Agriculture and natural resources is a program of the University of Wisconsin-Extension in partnership with local, state and federal government in each Wisconsin county.
###