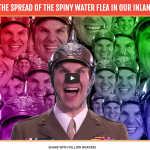 Contact: Bret Shaw, (608) 448-9958, brshaw@wisc.edu
 As Wisconsin's boating season shifts into full gear, a team of University of Wisconsin-Extension and University of Wisconsin experts has released a video urging boaters to take precautions to help stop the spread of a tiny, troublesome crustacean known as the spiny water flea among the state's inland lakes.
The edgy short film features a spiny water flea military commander rallying his troops, explaining how they can take advantage of boaters and anglers to fulfill their manifest destiny of spreading to new lakes. The video is available online at http://stopthespiny.com
"Because of its novelty, we hope this short film is more likely to be watched and shared on social media, so it will have a larger impact," explains the film's producer Bret Shaw, UW-Extension environmental communication specialist and UW-Madison associate professor.
While the video draws on dark humor, it's a serious issue, as this invader can cause substantial damage to the state's fisheries and water quality. For instance, a recent study found that the spiny water flea has decreased the water clarity of Madison's Lake Mendota by almost a meter. Spiny water fleas were first identified in Lake Mendota in 2009.
At this point, relatively few inland lakes in Wisconsin have been infested. That makes it the ideal time to halt their spread, notes Shaw.
Spiny water fleas were originally brought to Lake Huron in ship ballast water from Europe in the 1980s and then rapidly spread throughout the Great Lakes in the ensuing decade. In the past few years, they have started showing up in some of Wisconsin's inland lakes. When they invade a lake, they feast on zooplankton and other small aquatic organisms, which means there's less food for small fish—and ultimately game fish. Their introduction is also associated with increased levels of algae, making the water greener and less clear.
"The organisms that spiny water fleas eat are the grazers that eat algae, so when they eat these organisms, there is more algae in the lakes," says Jake Vander Zanden, a professor at UW-Madison's Center for Limnology, who served as scientific advisor for the video.
One challenge in controlling the spread of the spiny water flea is that they are so small—around a centimeter in length—that they are difficult to see and identify. The goal of the video is to help boaters keep them in mind as they enjoy the state's lakes this summer and beyond.
Best practices to halt their spread include removing all plants, mud and debris from watercraft and gear; washing and drying boats before launching into a new lake; cleaning anchors of mud (which can contain spiny water flea eggs); and draining all lake water from live wells, bait buckets, bilges and coolers.
Shaw produced the video in partnership with a multidisciplinary team of limnologists, social scientists, educators, videographers, artists, costume designers, musicians and social media experts from institutions including UW-Extension, UW-Madison, Sea Grant and Wildlife Forever.