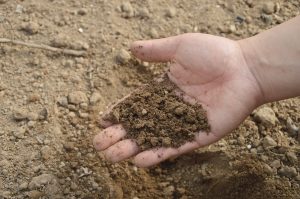 Contact: Andrew Stammer, 715-387-2523 ext. 13, astammer@wisc.edu
Lawn and garden problems can be caused by a variety of issues. Soil testing offers homeowners a way to get at the root of those issues by assessing the nutrient status and soil conditions in their lawn or garden.
"Visual and tactile clues can provide some insight into soil texture and organic matter levels, but soil testing is the best way to determine fertilizer needs of gardens and turfgrass," said Andrew Stammer, director of the University of Wisconsin Soil and Forage Analysis Lab in Marshfield. "Laboratory soil tests provide a great deal of accuracy and quality control not available through other methods of evaluating soil nutrient levels."
Soil samples tested in Wisconsin typically include results for soil pH, organic matter, phosphorus and potassium. This information can be used to guide the improvement of garden soil through the addition of amendments and fertilizers. The University of Wisconsin-Extension publication Sampling Lawn and Garden Soils for Analysis provides information about sample collection and testing and is available online at http://learningstore.extension.wisc.edu/assets/pdfs/A2166.pdf.
Stammer said, "Soil can also be contaminated with lead. Soil testing will evaluate soil contamination and detect lead levels."
Lead is a common soil contaminant of soils in urban environments. Lead contamination is most common near painted buildings built before 1978 and where the soil has been exposed to leaded gasoline exhaust. Testing likely sites for lead can help evaluate risks of lead contamination in the garden.
The UW-Extension publication Reducing exposure to lead in your garden soil explains how to lower your potential exposure to lead from garden and is available online at https://learningstore.extension.wisc.edu/Assets/pdfs/A4088.pdf. General information on lead in home garden soil can be found in the UW-Extension publication Lead in Home Garden Soil and is available online at https://learningstore.extension.wisc.edu/Assets/pdfs/A4089.pdf.
Visit the University of Wisconsin Soil and Forage Lab web site at https://uwlab.soils.wisc.edu or call the lab at 715-387-2523, for information about soil testing, plant analysis, manure analysis and forage testing.
###