NEW in 2019: "Climate Strong" Climate Leadership Program: Educator and Youth Training Opportunities
Climate Strong! will increase the readiness of community educators, and the middle to high school students they serve, to build community resiliency to extreme weather and environmental hazards that face the Ojibwe Ceded Territory (Minnesota, Wisconsin, and Michigan). The program will feature teachers and informal community educator training, youth climate leadership "camps", and community climate leadership outreach events.
Mark your calendar: Our first Climate Strong! Educator Institute will be held July 8-12, 2019 and will based at the Northern Great Lakes Visitor Center in Ashland, WI and neighboring tribal communities. Enrollment will be limited to 35 participants. Training will increase climate change teaching competency and leadership by engaging participants in traditional ecological knowledge and place-based investigation integrated with western climate science. For more information contact institute coordinator Cathy Techtmann at catherine.techtmann@ces.uwex.edu
This project is a partnership with the Fond du Lac Tribal and Community College, UW-Extension, Great Lakes Indian Fish and Wildlife Commission, 1854 Treaty Authority, and Lake Superior NERR, with funding through a NOAA Climate Resiliency Grant, . Stay tuned for more information on this innovative leadership program!
"Paddle Through Time" Re-Enactment (indoor guided program)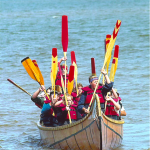 Using slides, narration, and costumed interpretation; we re-create the experience of traveling through time to learn about Lake Superior's freshwater estuaries and the role they have played from the fur trade days to today. Your guide will be a "real" voyager who will reveal an important choice facing each of us if we are to improve the sustainability of our natural resources!
Duration 1-hour. Advanced reservations are needed.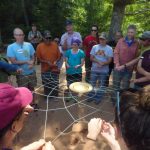 "Leadership Secrets of the Voyageurs" Leadership Ed-Venture (indoor guided group program)
Learn the leadership secrets of the voyageurs without getting your feet wet. This indoor program features the same interactive games, leadership challenges, and fun as the outdoor version of "Leadership Secrets of the Voyageurs"—all designed to improve communication and team building skills. You'll discover your personal leadership style and learn how to work more effectively with people of different styles. Cathy Techtmann, a Real Colors Certified Trainer, will be your program guide.
Advanced reservations are needed. Call for program costs and details.
Contact Cathy Techtmann-UW Extension Environmental Outreach Specialist at 715.561.2695 or catherine.techtmann@ces.uwex.edu for more information and reservations.