Connecting youth with public lands, habitats, and watersheds through guided, experiential learning that's educational and FUN!
Who: This program is open to youth ages 12 and older including school classes, summer camps, youth groups & organizations. Group sizes between 8 to 52 participants are welcome.
When: June-October 2018. Program duration = 3 hours. Advance registration required.
Where: Fish Creek Estuary and the Northern Great Lakes Visitor Center, Ashland, WI.
Cost: Program costs provided by a US Forest Service Youth Engagement grant. Transportation "scholarships" are available. No experience needed. All equipment provided.
Why? This program is offered to provide fun, hands-on learning experiences for youth that builds their connection to public lands, forests, and the water. Check out the Kids Paddle Forest to Lake flyer for more details.
Activities include: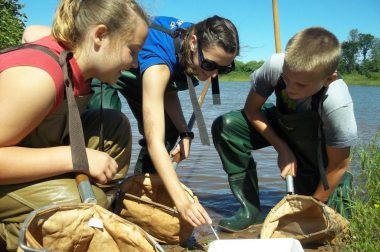 • Monitoring water quality
• Sampling macroinvertebrates
• Exploring the connection of forests and Lake by kayak
Programs are guided by environmental educators Cathy Techtmann- University of Wisconsin-Extension; Susan Nelson-US Forest Service, and Tony Janisch-Superior Rivers Watershed Association with support from the Alpha Kappa Delta Sorority and the Northern Institute of Applied Climate Science-USDA Forest Service.
For more information or program reservations contact: Susan Nelson-Northern Great Lakes Visitor Center, Phone: 715-685-2644 or email sbnelson@fs.fed.us