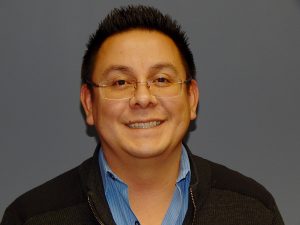 Carlos Miranda
Language Access Project Manager
(608) 262-9002
leon.carlos.miranda@wisc.edu
The work of UW Cooperative Extension's Language Access Team enhances the way our organization's educational programming engages and includes Wisconsin's linguistically and culturally diverse communities. As the language access project manager, my role manages the portfolio of our team's multilingual projects, which primarily includes the translation of educational materials and the use of interpretation services during programming events. I oversee our online request process and manage the needs of language access projects from start to finish.
Helping colleagues manage the needs of their project is a collaborative effort and a time-intensive process, which is why I strive to maintain open lines of communication with all groups involved. I help colleagues identify and understand the language access needs for each project, source appropriate professional interpretation and translation service vendors, obtain quotes for projects, coordinate logistical needs for interpreter services during events, manage text-based content in both source and target languages, edit and proof translated content, and coordinate the evaluation of contracted services.
My career with UW Cooperative Extension started in January 2017 and I bring to the organization over 10 years of professional experience working as an interpreter (Spanish-English). My professional specialty includes simultaneous interpretation in conference settings. I completed a bachelor's degree from UW Madison in Latin American, Caribbean, and Iberian Studies along with a certificate in Chicana/o and Latina/o Studies.

I can help you with…
Managing a translation project (curricula, brochures, flyers, forms, evaluations, etc.)
Coordinating interpreter services for in-person programming events
Program planning for multilingual audiences
Connect with my work here…