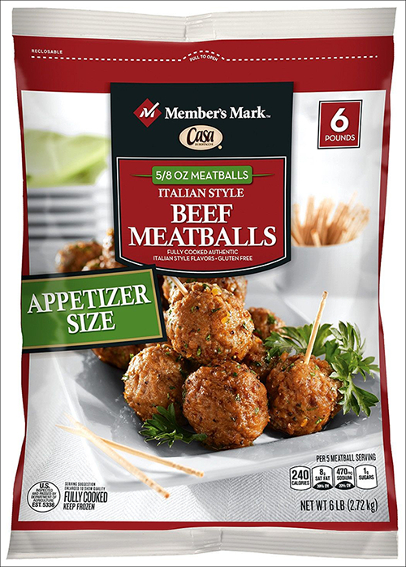 In the latest of food recalls due to potential contamination with the potentially deadly bacterium Listeria monocytogenes, a New Jersey food company is recalling more than a ton of frozen meatballs packaged under the Sam's Club brand "Member's Mark" because of possible contamination with Listeria monocytogenes. Rich Food Products of Vineland, NJ shipped the ready-to-eat meatballs to distributors in nine states: Alabama, Florida, Louisiana, Mississippi, North Carolina, South Carolina, Tennessee, Texas, and Virginia. Although none of the distributors is in Wisconsin, the recall notice did not indicate whether those distributors have sent the recalled meatballs to other states.
The 'best if used by' date on the product is 17 December 2018. This product may be in consumers' freezer. The USDA urges consumers who have purchased this product in any state to check their freezers and not to consume this product, but to discard the product or return it to the place of purchase. The meatballs are sold in 6-pound (6-lb) bags. Other identifying information on the affected packages includes:
"Member's Mark Casa Di Bertacchi Italian Style Beef Meatballs" in 6-pound plastic bags;
"Best if Used By 17 DEC 2018" date code;
Lot code of 15507351; and
Establishment number "EST. 5336" printed inside the USDA mark of inspection.
This recall joins other recent national recalls (all in January, 2018) impacting frozen ice cream bars and frozen green beans due to possible contamination with Listeria. According to Food Safety News, it can take up to 70 days after exposure for symptoms of Listeria infection to develop. Consequently, people who have eaten the recalled meatballs should monitor themselves for listeriosis symptoms during the coming weeks.
Symptoms can include fever, muscle aches, headache, stiff neck, confusion, loss of balance and convulsions, sometimes preceded by diarrhea or other gastrointestinal symptoms. In severe cases the infection becomes invasive and spreads beyond the gastrointestinal tract. Older adults, young children and people with weakened immune systems such as cancer patients, people with HIV/AIDS and organ transplant recipients are susceptible to serious, sometimes fatal, infections. In addition, in pregnant women, infection with Listeria can cause miscarriages, stillbirths, premature delivery or life-threatening infection of the newborn. The pathogen can cross the placenta and infect developing fetuses. As always, stay informed and stay food safe. Barb