MSFP 10-14 is an enhancement to the Strengthening Families Program for Parents and Youth 10-14, which is an evidence-based program that can provide both health and economic benefits to youth, to families and to your community long after the program ends.
What is an evidence-based program?
An evidence-based program is developed based on sound research information and then rigorously tested to determine that the intended effects of the intervention are actually accomplished.
To learn more about SFP 10-14 Program Evaluation through Iowa State University Extension, Click here
For SFP 10-10 Outcome Graphs, Click here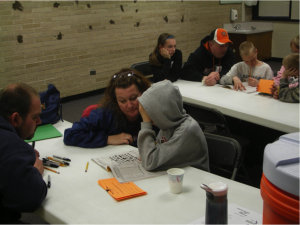 Research Supported Community Benefits
For every dollar spent on SFP 10-14, $9.60 comes back to the community as benefits in the form of less jail time, less time off work, and less time in treatment. Source: Spoth, Guyll, & Day (2002). Journal of Studies on Alcohol, 63, 210-228.
The Strengthening Families Program is a proven, evidence-based program that has been specifically developed for parents and youth 10-14 in order to:
Prevent teen substance abuse and other behavior problems
Strengthen parent/youth communication skills
Increase academic success in youth
Prevent violence and aggressive behavior at home and at school
Youth whose families 

participated

 in SFP 10-14 are

…
less

 likely to use alcohol, tobacco and other drugs in the future.

less

 likely to have problems with physical aggression, including fewer fights and less disruptive behavior within the school and the community.

more

 likely to be better connected and more successful in school.
Parents who have participated in SFP 10-14 are

…
better

 at disciplining and monitoring their teens.

have

 more positive feelings about their children.