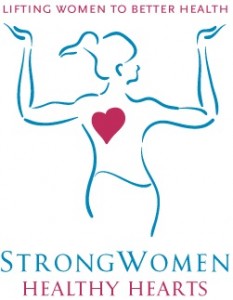 StrongWomen – Healthy Hearts is a cardiovascular disease prevention curriculum that aims to help midlife women reduce their risk of heart disease through fitness and nutrition education.
The curriculum is designed for women midlife and older (40+) who currently get very little or no exercise. Each class lasts approximately 1 hour. Half of class includes leader-directed discussion around eating for heart health and hands-on cooking activities. The curriculum emphasizes an eating pattern that is rich in fruits, vegetables, low-fat or nonfat dairy, fish, whole grains, and legumes; it encourages leaner meats and poultry, and fewer refined carbohydrates and saturated and trans fats. During the other half of class, participants engage in aerobic activity by walking outside or dancing to a DVD. Over the course of the program, the aerobic activity progresses from approximately 15 minutes of low-to-moderate intensity physical activity (plus 5 minutes of gentle stretching) to 25 minutes of moderate-to-vigorous intensity physical activity (plus stretching). StrongWomen –  Healthy Hearts is designed to be taught two days per week for 12 weeks.
You can become a StrongWomen – Healthy Hearts trainer through the national StrongWomen program's web-based educational course.
Questions? 
Contact us at strongbodies@extension.wisc.edu.