StrongWomen Success Stories:
I am a Strong Woman. 
If you would have told me I could say that 6 months ago, I would have told you it was not possible. Six months ago, I had just finished daily 30 Radiation treatments to my abdomen/pelvis, and two weeks of daily chemotherapy. I finished treatment at 109 pounds on my 5'6" frame, hairless and profoundly weak. I was having issues with continence, difficulty eating, and felt like I had lost control of every aspect of my life. 
I had seen an article about a class being offered by the UW-Extension called StrongWomen in the Tomah Journal and asked my Oncologist about it. She indicated I could give it a try, however, she would put lifting restriction on me and monitor my weight. I think she, and I were both a little skeptical about my ability to participate due to my deconditioned state. My husband was optimistic.
I met Erin, my instructor, at the opening session. She was aware of my situation and talked to me about a program of gradual conditioning. I was particularly worried about my loss of upper body strength and balance. I started that session lifting 2# hand weights, and hanging onto my chair for dear life during balancing exercises. I was literally exhausted after the first week's sessions. Erin was there as my best cheerleader, encouraging me along the way. I came back for week two, and then three, and more. Over the weeks, I did gain strength and balance. I ended the first 12-week session lifting 8# weights and being able to perform the balancing exercises with little chair stabilization. 
I am now in my third set of classes. I am physically stronger, and able to do my normal daily activities without fear of falling. More importantly, I gained control of in my life. I discovered that my body and mind are resilient. 
I discovered that I am indeed a Strong Woman.
-Deb Mulrain, Monroe County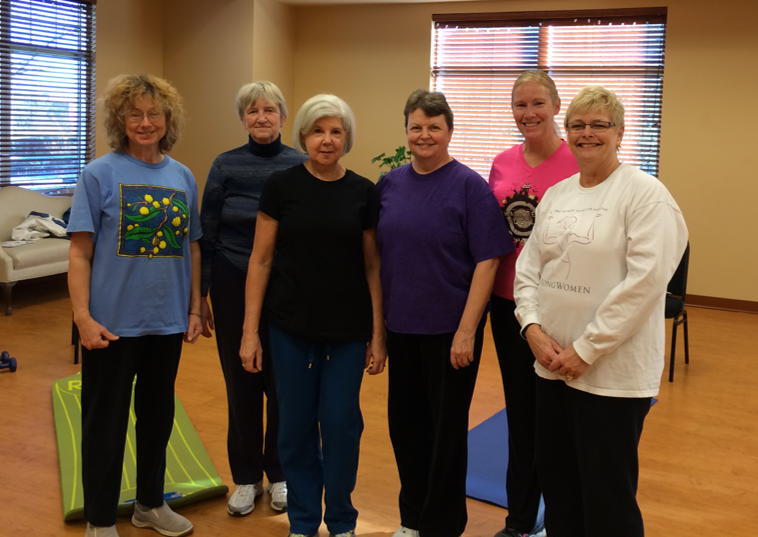 I was unable to get off the couch without my husband helping me, then I joined a StrongWomen class. Now I am able to get off the couch with no help AND I can pick up my grandchildren because I have much more strength and balance.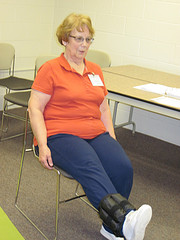 I am a Double-Lung recipient (June 2003). After spending just over a month in the hospital, I came home to recoup. About the time, I was to do my rehab, I found out that I had crushed one vertebrae and cracked another, and the pain was too great to do anything but try to heal. So I did what I could at home until I felt strong enough, and decided to look for some type of exercise. Thankfully, I read about StrongWomen Program in my local newspaper and joined. Strong Women has truly given me back my strength and the ability to hold myself upright. With the crushed vertebrae, I already have a humped back, but I am determined, along with StrongWomen, to remain upright until I am 80. I believe whole heartily in the Strong Women Program, for so many reasons- body strength, better bones, better balance, body movement, everyday living and social interaction. So my advisc is to get out there and join, make your life better and healthier. I am now leading a StrongWomen Class in Rock County.
One of my participants updated me weekly with her progress. She goes to the Chiropractor for a variety of heath problems. She stated that the chiropractor was so amazed with her progress that he asked her to share what she was doing with him so he could apply it to other patients. She said that this is the first year in quite some time she was able to push mow her lawn with some ditches and inclines. She was afraid of falling and getting hurt in the past.
 All the exercises are appropriate and totally beneficial. I have made improvements in balance and core strength. Mentally and socially the program is a gift to me. The program is the complete package! –Participant from Pines Community Wellness Class
The class was made more enjoyable because of the fun we had as a group. A lot of funny and nice people. Laughter is a great exercise -Participant from Pines Community Wellness Class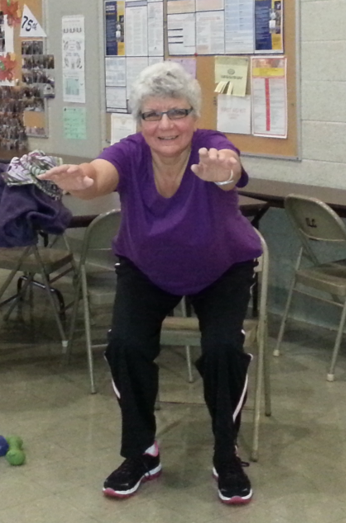 I think that the StrongWomen program has really helped me have an easier time doing weeding, gardening etc. I wasn't as sore as other years when I was not strength training. My everyday life is much easier now like house cleaning, grocery carrying, etc.
I have been walking for years and always had shin splints, but now that I have been participating in the StrongWomen program 2 sessions ago, I  haven't  had any shin splints at all.
I have 2 artificial legs and 1 artificial hip. I can't do all the exercises, but the class shows me how to keep moving and stay strong!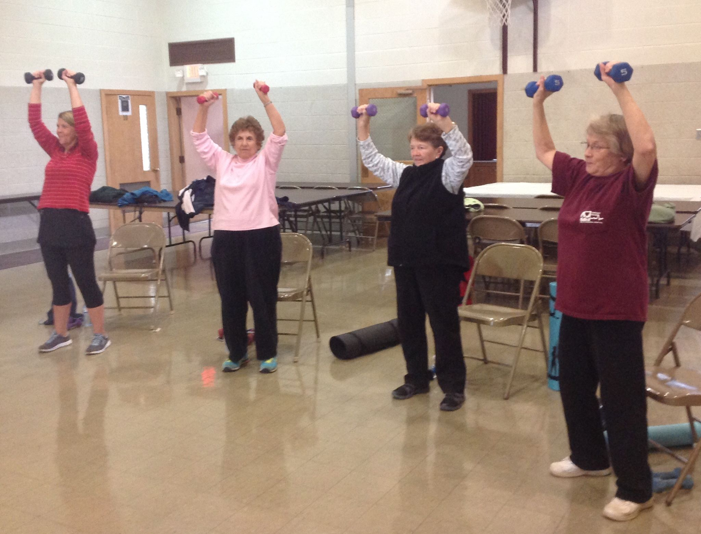 Strong Bones is invigorating. It helps me with activities of daily living. Our teachers are excellent!
I am able to pull back my hunting bow more easily now after five weeks of participating in the Strong Bones program
"trongWomen has become an important piece on my weekly schedule and my life
The program not only made me stronger physically, but mentally and emotionally. Since I began exercising, I feel more motivated, look better and have stronger muscles to do my daily life chores. I am more flexible and move a lot faster now. This program has shown me the importance of exercise to preserve a good health and to look the way I like. Those are things that I didn't know where possible for me. StrongWomen has done it for me and for many others that are lucky enough to be part of it.  We have the privacy we like, a convenient location, a nice and efficient instructor who encourage and cares for the group.
 Thanks for creating a program that makes us feel important in and for our community."- Maria G. Plascencia (Brown County)
Check out the article about StrongWomen in the Gundersen Health Newsletter HERE
Also see National Success Stories