Soils of Blackhawk Island
The top of the island is fairly level except for two knolls each approximately 3 meters higher than the surrounding land. On the north and east sides, the underlying Upper Cambrian sandstone crops out in cliffs. Depth through the soil to the underlying sandstone is approximately 1 meter across the top of the island except on the two knolls where the soil is thinner. There are two river terraces on the west end of the island, one higher and older than the other. Both are composed of sandy alluvium. The material across the top of the island, and within which the soils have developed, grades from loams and sandy clay-loams on the west, north, and south to the silty clay-loams slightly to the east of center of the island. Silt loams cane be found on the northern and eastern edge of the island at the break in slope before the sand stone cliffs. Sometimes a thin, 4-10 cm, layer of sand and sandstone cobbles is sandwiched between soil profile and the bedrock; more often, the soil lies directly on top of the bedrock. The boundary between the soil and the sandy layer or bedrock is sharp throughout the top of the island and no sandstone cobbles or psuedomorphs are found in the profiles (Pastor, et al., 1982).
The soil of the youngest and lowest terrace, located below the cliffs near the western side of Blackhawk Island, is a Typic Udipsamment (Entisol). Buried forest floor in the profile attest to the flooding and deposition by the river. The soil of the older terrace, located above the cliffs, is an Entic Haplorthod (Spodosol), a soil rare in southern Wisconsin but common in northern Wisconsin. Soils across the top of the island, expect for soils on the sandstone knolls, are all Typic Hapludalfs (Alfisols), the most common of the region. The soil on the larger of the two knolls is Typoic Dystrochrept (Inceptisols), a soil midway in development between the sandy Entisol of the youngest terrace and the remaining Alfisols. Soils not on the main transect (see figure below) include Folists (Histosols) on cliffs and plowed Alfisols near the center of the island. The soil on the smaller of the two knolls in also a Folist. The silt and clay content of the soil increases steadily across the island from west to east following the main transect (Pastor, et al., 1982).
References:
Pastor, John, et al. "Geology, Soils and Vegetation of Blackhawk Island, Wisconsin." American Midland Naturalist, vol. 108, no. 2, 1982, p. 266., doi:10.2307/2425487.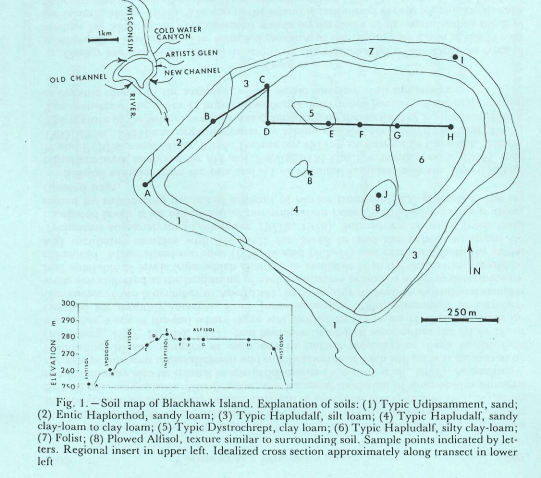 Above figure from Pastor, et al., 1982