On this page, you can find updates about our response and resources available for at-home learning or outdoor activities.
Thank you to everyone who has been so understanding concerning the cancellations and changes to our availability and schedule. Here you can stay updated about our response. We are following the University of Wisconsin-Madison Division of Extension guidelines and the state's Badger Bounce Back plan. For the latest information on COVID-19, visit the Wisconsin Department of Health Services or covid19.wisc.edu which contains more information from the University of Wisconsin about plans and response for COVID-19 (coronavirus).
Due to the COVID-19 virus outbreak and guidelines from Wisconsin Department of Health Services, UW-Madison, and federal agencies, our office will have limited availability and access.
Programming
EDUCATORS WELCOME – LEAD YOUR CLASS FROM UPHAM WOODS
While it may not be possible for your whole class to visit for a field trip right now, we are working with educators interested in live streaming their classes from Upham! Together, we can co-explore the grounds to meet your classroom objectives. Come out to show students how to collect data in the field, identify trees, and use our unique Outdoor Laboratory to support your students. Introduce something new to your online classroom. Contact us to schedule a visit.
Residential Groups – Upham Woods will be focusing on providing day-use and outreach programs for the beginning of 2022, but check back as we work on our policies to reopen for spring!
Day Use Programs – Join us on site! See what to expect if you join us onsite.
Open Enrollment Summer Camp – We have come to the difficult decision to not lead open enrollment summer camp in 2022.
---
Resources available to you
These resources are Upham's commitment to community science during COVID-19. Upham's other community science initiatives also include Science Strikes Back (supported by EPA NE00E02399), the Research Accelerators (supported by Milwaukee Metropolitan Sewerage District), and Sauk County Youth Conservation Days.
Great Lakes Quests | 
Remote Conservation | Nature Journal
Virtual and interactive tours of Wisconsin coastal cities as part of the Wisconsin Coastal Guide. Free. 
In collaboration with Wisconsin Sea Grant, Upham Woods has developed a series of virtual and interactive tours of Wisconsin coastal cities that feature natural, historical, and cultural assets of the area. These tours were developed using ArcGIS StoryMap and aim to:
increase awareness of natural, cultural, and historical coastal issues both locally and statewide
increase access to the relevant and on-going coastal issues for both local and non-local participants
engage all of Wisconsin and help develop Wisconsin's identity as a coastal state
bridge virtual and in-person experiences using a novel approach to place-based learning
The Great Lakes Quests contain interactive educational components including links to external content, inquiry-based questions, and quizzes. Each correct quiz answer reveals a clue that spells a final word that's significant to the coastal city. Learn to quest using a video tutorial here.
_________________________________
Remote Conservation
You can still take part in Upham Woods 10k Conservation Challenge. Complete a conservation service project within your community and fill out this survey. Upham Woods will count your service towards the 10k Conservation Challenge. If you need some ideas on how to get started, take a look at the video and handout below. Reach out to our Conservation Program Coordinator with any questions or help with organizing your service project.
Garlic Mustard Pull: video and handout
Nature Detective: Crown Vetch Pull video and Nature Detective: Crown Vetch Handout
Nature Detective: Bird's Foot Trefoil video and Nature Detective: Bird's Foot Trefoil Handout
Backyard BioBlitz: Upham Woods Backyard BioBlitz
Trash Clean-Up: video and Trash Clean-up Handout
Wacky Water Critters: Water Quality video and Wacky Water Critters Handout
10k Conservation Challenge Survey
Let's reach 10,000 hours of conservation!
_________________________________
How to Make your own Nature Journal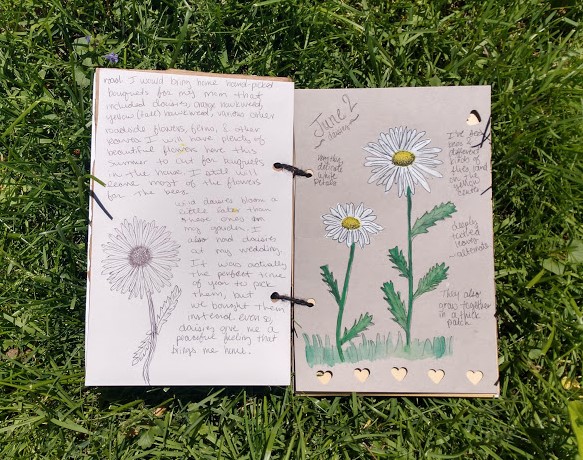 Nature journaling is another great way to tell stories about our observations outside. When you observe your natural surrounding closely and record your observations through lists, stories, or sketches, you are doing science! We look at nature journaling as a bridge between science and art and it's for all ages! Check our these instructions to make your own!  Anything recorded in a nature journal is also an Earth Story!