Wisconsin Youth Water Stories Summit
The Quick Look
Registration closes June 12 at 11:59 PM

Dates: Thursday August 6 – Saturday August 8 

Cost: FREE

Limited availability – first come first serve basis
Contact Isabelle Herde at isabelle.herde@wisc.edu  or (608) 254-6461 with any questions or concerns.
From glaciers to trade, water has touched every part of life and history in Wisconsin. We should stop, listen and learn about our rivers and lakes around the state.
Upham Woods Outdoor Learning Center has 4 1/2 miles of shoreline along the Wisconsin River creating a remarkable setting for the Wisconsin Youth Water Stories Summit.
Whether your child has never been to Upham Woods or they want another chance to camp at Upham, we're here to get them out on the water and to make a memorable summer.
This camp is available at no cost to the camper thanks to Environmental Protection Agency Local Environmental Education grant nos. NE 00E02399. Just find a way to get here!
Registration will not open for the Wisconsin Youth Water Stories Summit 2020.
You can learn more about 2019's camp by watching our video.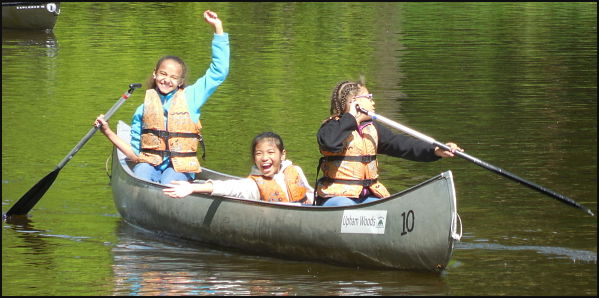 What is the Water Stories Summit all about?
This camp will explore water on the landscape and invite campers to write the story of their waterway. Water has formed Upham Woods. It carved out Blackhawk Island and the narrowest part of the Wisconsin River. The rocks contain ripples from an ancient watery world and our salamanders and macro-invertebrates wriggle around a new one today. Our programming will focus on these features and others as campers explore on canoes, through swimming, and with the help of technology. Participants will have the chance to use professional grade field equipment on the Wisconsin River to  measure pH, turbidity and understand how those variables impact their environment.
This camp is open to anyone age 8-17 who lives in Wisconsin.
Adult volunteers are welcome.
What will my child be doing?
Step 1: Show up, move into cabin
Step 2: Choose your adventure: hiking, swimming, fishing, using the low element challenge course, observing our nature center animals
Step 3: Conduct a water quality assessment with everyone along our stretch of the Wisconsin River
Step 4: Write your water story a little each day to share at final campfire as a skit, song, presentation, or written story
Step 5: Go home, share what you learned and what you loved!
They'll be sleeping and eating and exploring throughout their time at Upham Woods as well. Take a tour of Upham Woods including our cabins!
Why choose the Water Stories Summit over a traditional summer camp?
This camp is unlike any other. Your child will come in as a camper and leave as a camp scientist.
Previous camp scientists have left this camp:
feeling more confident about their science skills
liking science more
understanding what affects water quality
caring more about their local environment and aquatic environments around Wisconsin
more confident in their ability to be change-makers in their communities and solve water issues
This information was reported in "Youth Engagement with Natural Resource Issues Using Mobile Digital Technology" by Justin Hougham, Caitlin Graham, Marc Nutter, and Isabelle Herde at the Wisconsin Association of Environmental Education in November 2018.
Send your kid to a camp that makes a difference.
Read previous camp scientists' water stories.