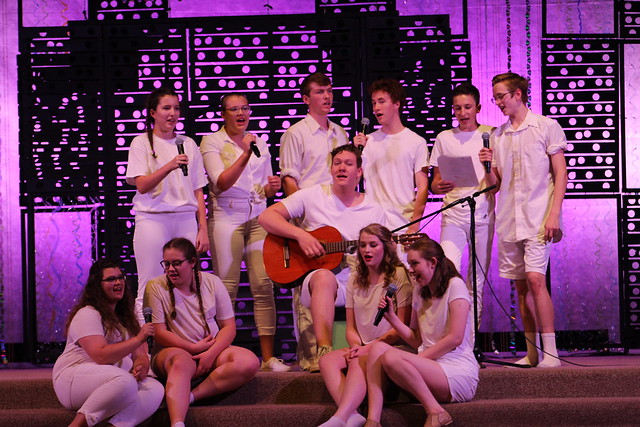 Drama Company creates a stage performance involving acting, song and dance in the five days leading up to 4-H and Youth Conference. Show content is a collaborative effort between company members and their director. Each Drama Company member contributes ideas for the show and works with the group to problem solve issues on the set and in the script. Drama Company takes their show on to the Wisconsin State Fair where they perform for fair goers from across the state.
Dearest 4-Hers,
I hope that the fact that you are reading this note means you are considering applying for the 2020 4-H State Drama Company, and/or are  a past member, parent, leader, 4-H program staff or faculty. This is my eleventh year directing this group and it continues to be some of the most inspiring and satisfying work that I do. 4-H can be a transformative experience and when 4-Hers immerse themselves in the 4-H Program, they provide opportunities for their own growth. When you apply for a State 4-H Arts Team, you put your faith in the adults that you will learn, grow and change.
The team of adults, who are the backbone of the program, are committed to developing and growing leaders. Drama Company is a 4-H group of high school age students who create and perform an original show each June. It is a place of creativity, friendship and opportunity. It is also a place to inspire others through your talents, make lifelong friendships and make our communities better. If you act, sing, dance or just love theater, I hope you will consider making Drama Company a part of your 2020 plans.
Each year's company is totally different. The mix of ages, personalities and talent always meld together to create a show that reflects each of the unique pieces. This year's 4-H Conference theme is "Power of the Past, Force of the Future".  In just a few short months we will be together planning, dreaming and building a vision for what we will achieve together. I truly hope you will consider applying for the 2020 State 4-H Drama Company. It can be life changing. Consider talking to a past member to find out more of what it means to be a part of a state team.
Last year we had a record number of applicants and we realize that we do have a limit to the number of youth who we can support and service through this activity. Therefore, it is as important as ever to get your applications in early. The due date is December 20, earlier than in the past, so you will want to start asking for your two letters of recommendation in the next couple of weeks. Returning members only need to have one letter, but will also be asked to reflect on how they have grown through their previous experience and how they will continue to grow if on the team in 2020. If you have any questions, please feel free to contact me at jjohnson@sasd.net.
Jay L. Johnson
4-H State Drama Company Director
State Arts Group Application Information