November 13-15, 2020



2020 event cancelled – Stay tuned for 2021!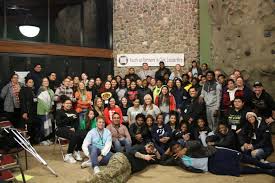 Theme: FOCUS ON YOUTH
Location: Turning Rivers, N885 Youth Camp Rd, Campbellsport, WI 53010
What is YPCL? The mission of the Youth as Partners in Civic Leadership Conference (YPCL) is to advance youth voice in Wisconsin by increasing the capacity for youth and adults to share civic leadership in local communities, schools and organizations. We advocate for a youth voice and build mentoring, networking and learning opportunities.
Who should attend? Teams of high-school-age youth (ages 14-18) and adults (21 or older) sharing decision-making roles in communities, schools and organizations (19 to 20 year olds are also welcome but should register as adults.) Groups are limited to 10 people with the preferred ratio of 4 youth to one adult.
Can I lead a workshop? Participating teams are encouraged to lead workshops and roundtables. 2019-YPCL-Presentation-Proposal-Form
Orientation – We held a web orientation, especially intended for new team leaders.  Orientation Archive
How do I register? Identify a team of youth and adults who intend to work together after the conference. Registration cost is $120, which includes meals and lodging. Use the team registration form to request scholarship support if needed.
Three steps to register for the 2019 YPCL Conference:
1. Complete the 19YPCL_TEAMFORM– DEADLINE: OCTOBER 4, 2019.
Team Leaders should return the form ASAP since space is limited.  Please email to lynn.pfeiffer@wisc.edu. We will confirm scholarship availability by October 8, 2019 so you know how much to pay.
2. Team Member Registration Form – DEADLINE: OCTOBER 18, 2019
Each team member (both youth and adult) listed on the Team Registration Form completes individual on-line registration linked at 2019 YPCL Registration Survey – not yet available
3. Submit Health and other required forms  – DEADLINE OCTOBER 25, 2019
A. Youth Forms –19YPCL-Youth-Forms-Fillable– (Health, Assumption of Risk, Photo Release and Expectation Forms)   Also available in Spanish: 19YPCL-En-Espanol-Youth-Forms-Fillable
B. Adults register in 4-H Online , which includes a background check to ensure a safe environment 19YPCL-Adult-Forms-Fillable (Instructions, Assumption of Risk, Photo Release and Expectation Forms) – DEADLINE OCTOBER 23, 2018. Adults who complete the process and are at least 21 are eligible to serve as cabin chaperons. For new registrants, the timeline is tight, so potential cabin chaperons should register in 4-H Online by September 30. Adults may participate in group activities at YPCL if background checks are not complete.
NOTE: Staff members do not need register in 4-H Online but still need to complete 19YPCL-Adult-Forms-Fillable (Instructions, Assumption of Risk, Photo Release and Expectation Forms) as well as a paper health form 19YPCL-Adult-Health-Form-paper-form-Fillable-1 (Says Youth but has been marked as "AA" in age section.)
Return completed and signed forms to lynn.pfeiffer@wisc.edu. fax to 608-265-6407; or mail to YPCL, 130 Pyle Center, 702 Langdon St, Madison, WI 53706
NOTES:
1. If any participant will be under age 14 before the beginning of the conference on November 8, 2019, please contact Matt Calvert (608-262-1912 or matthew.calvert@wisc.edu) for alternative registration procedures.
2. High school students should register as youth participants even if they are already 18.
3. Anyone out of high school and 18 or older should register as an adult.
4. If you are having trouble filling in the forms on your mobile device, you may: a) choose to try on a desktop or laptop device; 2) print out the forms, complete the paper copy, and mail it in; or 3) try using an application that applies to your device.  One suggested application can be found at fillable forms.  It can be used on both Android and Apple devices. (This is only one of several that you may choose from, not an official endorsement!)
Need ideas to pay for team registration? We put together some Fundraising Ideas for YPCL Teams.
Questions? joe.muellenberg@wisc.edu or 608-262-9605
Like us on Facebook at YPCL Wisconsin and we'll keep you updated. You can also contact Joe Muellenberg, 4-H Outreach Specialist for more information.
---
Issue and Tactics Sessions led by Youth Groups Working in These Areas …
– Healthy Lifestyles – healthy eating, going green, alcohol and other drug abuse prevention
– Interpersonal Relationships – social media/cyber issues, teen pregnancy, healthy dating relationships
– Diversity/Multicultural Engagement – issues related to race, sexual orientation, gender, immigration status
– Ending Bullying and Youth Violence – gang violence, school to prison pipeline, working for better juvenile justice
– Youth and Adult Power – working together on issues in education and politics
Most of our workshops were led by teams participating in the conference and we are looking for more for 2018. Do you have a workshop to share?  2018 YPCL Presentation Proposal Form
---
Outcomes of recent YPCL Conferences