Webpage last updated: March 2, 2019. Information will be provided as it becomes available. Prior year information remains posted for reference only.
4-H Drama Company creates a stage performance involving acting, song and dance in the five days leading up to 4-H and Youth Conference. Show content is a collaborative effort between company members and their director. Each Drama Company member contributes ideas for the show and works with the group to problem solve issues on the set and in the script.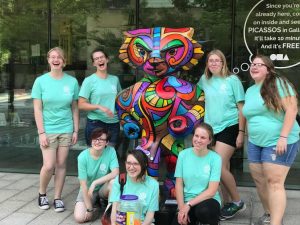 4-H Art Team creates artwork around the theme of the Wisconsin 4-H and Youth Conference as well as designing and organizing the WI 4-H and Youth Conference art exhibit, reception and guided exhibit tours. The team members also teach seminars. The 4-H Art Team is led by a professional artist who teaches team members artistic techniques using a variety of mediums.
4-H Communications Team tells the Wisconsin 4-H story using multiple forms of communication, including:  photo, video, social media, blogging and writing about club, county and state 4-H events. Team members develop a mixed-media presentation for delegates attending the Wisconsin 4-H & Youth Conference, as well as taking photos and videos of performances. They create promotional video clips for 4-H & Youth Conference and write articles about 4-H events. Communications Team members learn an abundance of problem solving, writing, photography and leadership skills as members of their team.
Wisconsin 4-H Leadership Council organizes and directs Wisconsin 4-H & Youth Conference. Along with their leadership at conference, WLC helps to plan the annual Fall Forum, UW-Extension Day and Meat Products Auction at Wisconsin State Fair. Members serve as leaders and role models for 4-H youth and adults.
More information on Art Team, Communications Team, and Drama Company may be found online here. More information on WLC is available on the WLC page.
2020 Youth Conference Handbook