Youth Conference 2020 will not be happening on campus – we are exploring alternate options and will be communicating via email.
All about Wisconsin 4-H & Youth Conference!
Wisconsin 4-H & Youth Conference is a three and a half day Statewide Educational Experience. Youth from all over Wisconsin come to Madison, Wisconsin for educational seminars, assemblies, speakers, exploration, and fun on the UW-Madison campus! Youth Conference is made possible by contributions from our State Teams (Wisconsin Leadership Council, Drama Company, Art Team, and Communications team), 4-H staff from across the state, and a planning committee made up of staff, volunteers, and youth. Below you will find highlights of the different parts of Youth Conference that come together to make it a wonderful Educational Experience.
Seminars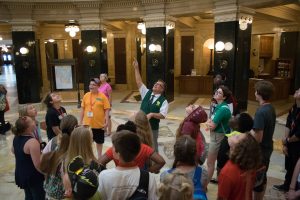 Every year youth get to choose between a variety of seminars during four different times to participate in. Every seminar is focused on hands-on learning where you get to actively learn while participating. On Tuesday morning of conference, everyone participates in a community service project in different places across Madison. These include: getting to know the ins and outs of community radio, helping out at a local food pantry, visiting and talking with senior citizens, learning about and building a Little Free Library, and much more! The other three seminar slots are open for youth to explore a variety of topics.
Is there a subject that you are interested in but have never gotten the chance to learn about in school? Youth Conference is a great place to explore some of these topics! Examples of these are:
STEM seminars with a variety of topics like robotics, space, entomology, medical careers, and more!
Leadership seminars like Unleash Your Inner Leader and Keeping Up with Cloverbuds
Healthy living seminars such as water sports with Hoofers, Yoga, and Run Smart, Live Smart!
Art seminars with the Art Team, gardening specialists, and Drama Company
And a variety of other seminars that you will love to learn from!
Assemblies and Speakers
Every day at conference there is an assembly with a different "main attraction" where youth get the chance to sit back, learn about a variety of topics (including the State Teams), and have fun! Here's a quick overview of our assemblies and what to expect:
Monday Night: Monday night is an introduction to Youth Conference and what to expect in the days ahead. Youth and adults get the chance to hear from a variety of people, capped off with a keynote speaker whose message is focused on our yearly theme to get the energy flowing!
Tuesday night: Tuesday night is Drama Company night! Drama company arrives early at Youth Conference and takes that time to prepare a show just for you! These shows are fun, engaging, and focused on a topic that will teach you something without even realizing you are learning!
Wednesday night: Talent show time! Wednesday highlights outstanding performers who have auditioned at conference. Experience the great talent of your fellow delegates as they showcase their skills in singing, dancing, playing an instrument, and much more!
Thursday morning: Thursday is our closing ceremony. Hear all about what opportunities await you in 4-H and beyond from our WLC officers and close the night with an inspiring capnote speaker.
Exploration
Exploration is a huge part of Youth Conference! On Monday afternoon, you will have the option to explore Madison and the UW-Madison campus in a tour of your choice. You will also get the chance to explore the city in free time with your friends and an adult advisor. Not only do you get the chance to explore Madison, you get the opportunity to explore a variety of careers and potential majors. Youth Conference is a pre-college program and we offer a variety of seminars taught by UW Extension professionals and UW-Madison professors.
Fun!
Last but not least, Youth Conference is FUN! Whether you are experiencing hands-on learning, listening to a great speaker or assembly, or dancing the night away, Youth Conference promises to be a great time. Youth and adults alike get the chance to meet new people and have a great time while receiving a quality educational experience. Lifelong friends have been established at Youth Conference and so have lifelong visions for one's future. We hope to see you there!
State Teams – Click the links to learn more and apply!
Wisconsin Leadership Council – WLC helps run assemblies, conference as a whole, and activities so youth can get to know each other.
Drama Company – they put on a show Tuesday night and help bring the energy to conference.
Communications Team – they help to promote conference and highlight each day at the assemblies.
Art Team – helps to design conference and runs the art exhibit.
More Information
Want to learn more about Youth Conference? Feel free to click on the links on the right hand side of the page!
Questions about Youth Conference that you can't find the answers to on this website? Feel free to contact Justin Lieck, Educational Programs Assistant at justin.lieck@wisc.edu or 608-263-5971.
2020 Promotional Flyer 1 – 100 Years of Youth Conference
2020 Promotional Flyer 2 – 100 Years of Youth Conference
2020 Promotional Flyer 3 – 100 Years of Youth Conference
2020 Promotional Flyer – WI 4-H & Youth Conference, June 22-25, 2020