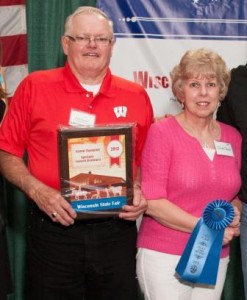 Al & Janet Feucht
Brandon Meats & Sausage Inc.
Brandon Meats, owned by Al and Janet Feucht, has supported 4-H in multiple counties and the Wisconsin State Fair since 1985. They are known for their yearly donation of a five-foot sausage to the Alto Fair, Dodge County Fair, Fond du Lac County Fair, Green Lake County Fair, and the Wisconsin State Fair. This donation has generated about $230,000.
Brandon Meats provides educational meat quality tours to help youth learn how to better produce quality meats. They host the carcass contests for Alto, Dodge County, Fond du Lac, and Green Lake County Fairs and provide a lunch for youth and families attending. They support the auctions by buying meat from 4-H and FFA members. They support many clubs with price breaks on products that are used in fundraisers. They have participated in many cream puff-eating contests that serve as popular raffle events.
Al and Janet care about youth and realize that investing in them now makes their future even brighter.