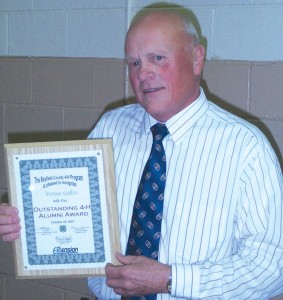 Verne Gilles
Bayfield County 4-H Volunteer
Verne was an 11-year member of the Kelly Boosters 4-H Club in Bayfield County. His projects included gardening, home grounds improvement, and junior leadership. Verne's professional career was spent as a management auditor with the United States General Accounting Office. He returned every summer to serve as the livestock superintendent at the Bayfield County Fair.
Since retiring in 1991, Verne has been a County Board Supervisor and chaired the Agriculture and Extension Committee as well as the County Fair Committee.
Verne organized a 4-H club, the Woodland Workers. He has been active in the Bayfield County 4-H Leaders Association, Wisconsin State 4-H Leader Council, State Plant Science Program Committee, 4-H Policy Committee, and the subcommittee that developed the 4-H Club Treasurer Handbook and the 4-H Club Financial Handbook for Leaders.
David Budiash, a 4-H member, sums it up best. "As I grew older, I came to see that Verne was a person who had simply learned that you develop your head, heart, hands, and health not for yourself, but for those around you. You take leadership positions not for your personal glory, but for the benefit your community."