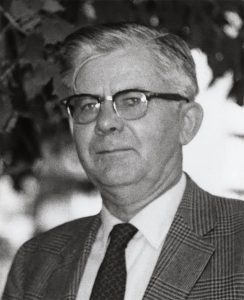 Marvin C. Hanson
4-H Educator and Director of Upham Woods
In Memoriam
Marvin C. Hanson committed 27 years of his life to 4-H, starting as a 4-H Agent in Marinette County, (1943-1955), then working as Langlade County Agricultural Agent (1955-1957) before touching many lives as Youth Development Specialist and Director of Upham Woods Outdoor Learning Center until retiring in 1970.
Marvin worked to expand and develop the facility, adding the Ihlenfeldt Cabin and bathhouse (1961), residential duplex (1965) and the central lodge (1969). The camp's annual attendance increased from 1,800 to 6,300, and, in 1967, Upham Woods was accredited by the American Camping Association.
Marvin understood the need and value of training others for leadership roles. He began leadership training programs for county directors of 4-H camps using Upham Woods and for camp counselors responsible for specific phases of camp programs. These educational programs were supported by the materials he developed and shared with counties that operated their own camps. The entire state was his classroom for conservation and recreation education.
Marvin served as President of the Wisconsin 4-H Agents Association, as well as Secretary and Chief of Epsilon Sigma Phi, the fraternal organization for Extension personnel.
He penned a "Trail Guide of Blackhawk Island" and "4-H Games for Meetings and Parties." Marvin was recognized by the governor of Wisconsin for his work on the "Youth Beautiful Report," which detailed ways to preserve natural resources. He also served as Executive Director and was on the staff of the Wisconsin Recreation Leaders Lab Association for 25 years.