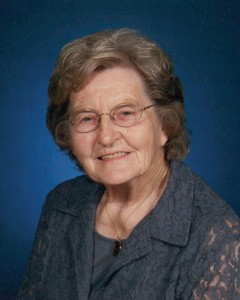 Berniece Helming
Monroe County 4-H Volunteer
Berniece Helming was a General Leader for the Star Gazers 4-H Club in Monroe County for 41 years. She was instrumental in organizing, educating and encouraging 4-H youth to become well-rounded, community-minded people. She was a countywide clothing leader and supervised the Monroe County 4-H Clothing Preview. She dedicated herself to many night and weekend meetings, helping kids with sewing. Her club demonstrated a strong commitment to 4-H and community service. Berniece organized a roadside cleanup project for the Warrens/Tomah area, which is a tradition that continues today.
In 1986, Berniece was selected as Wisconsin's Outstanding Leader and went to Washington D.C. to receive a Salute to Excellence Award. In 2013, she received the Monroe County 4-H Alumni Award.
Berniece was supportive of 4-H and always willing to help. She showed her commitment by serving on numerous Monroe County 4-H Leaders Association committees. She showed her strong commitment to the youth of Monroe County by the hours she donated to the program. She showed her leadership skills by leading through example.