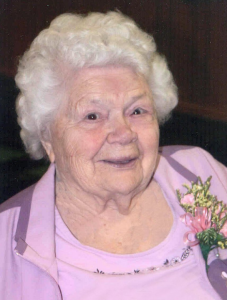 Helen Augusta Hornby
Kenosha and Vernon County 4-H Pioneer 
In Memoriam
Helen Hornby embodied the ideals of 4-H through her life. As a young child, Helen was the first 4-H member to do seed trials for Wood County. This was the beginning of her life-long involvement in 4-H. Recognizing the value of 4-H to a community, Helen was instrumental in working with Extension staff in 1944 to form Kenosha county's first city 4-H Club. Urban 4-H Clubs are now found throughout the 4-H Program. Beyond family participation, Helen became a 4-H leader and advocate to ensure that all children, regardless of limitations or life circumstances could learn and grow through 4-H Youth Development.
Throughout Helen's 4-H career, she exemplified leadership in organizing activities, empowering volunteers, and sparking enthusiasm in Kenosha County, Vernon County, and beyond. She had a variety of leadership roles in 4-H focusing on the educational impact 4-H had at all levels. No matter what her role, she was concerned about providing a meaningful 4-H experience for youth.
Helen recognized the challenging job of the 4-H Agent and worked hard to support them. The 4-H Agents she worked with valued the perspective, experience, and ideas Helen shared as well as her willingness to "focus forward" as new programming initiatives were introduced. She was instrumental in getting volunteers involved to ensure a sustainable 4-H program for the future.
Her service extends well beyond 4-H in that she was also active in church, civic, county, and state volunteer activities, always trying "to make the best better."
4-H shaped Helen's life as she whole heartedly lived the 4-H pledge, along with her family. She worked to think clearly, be loyal, serve others, and make her world a better place.